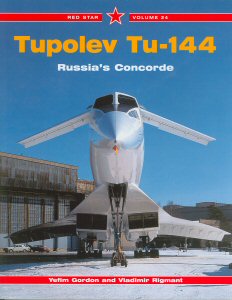 Tupolev Tu-144 Book Review
| | | | |
| --- | --- | --- | --- |
| Date of Review | June 2006 | Title | Tupolev Tu-144 |
| Author | Yefim Gordon & Vladimir Rigmant | Publisher | Midland Publications |
| Published | 2005 | ISBN | 1-85780-216-0 |
| Format | 128 pages, softbound | MSRP (USD) | $36.95 |
Review
During the mid-to-late 1950s, the major aeronautical nations were striving toward applying supersonic technologies to commercial aviation. The United States pursued several designs for a SuperSonic Transport (SST) but in the end, abandoned the effort and to date, never produced a viable SST. An Anglo-French consortium succeeded where the US did not - they produced Concorde which served as the flagship for first class service for both British Airways and Air France for decades.
The Soviet Union, the only one of the major aeronautical nations not to develop jet-powered aircraft during World War II, was quick to play catch-up and not only field formidable military aircraft employing jet engines, they also kept up their national prestige by developing jet-powered airliners as well. It was only natural that they too would push into the world of the SST. Initial efforts to graft the wings of supersonic aircraft onto commercial airliner fuselages were unsuccessful. The 'quick and dirty' SST approach was abandoned and an intensive engineering effort was undertaken to build an effective SST. The result of this effort would be the Tu-144 (NATO Codename: Charger).
This title provides some fascinating insight into the technical and political processes that evolved into the Tu-144. The authors have done some phenomenal research to pull together this story. While many people believe that the Tu-144 was a copy of the Concorde (and perhaps some 'unofficial' industrial espionage was undertaken), the SST required far more than copying aerodynamic structures.
Coverage of this title includes:
Introduction
The Tu-144 is Born
Take One... Take Two: Tu-144 Versions
The Tu-144 in Detail
International Cooperation
Next Generation: Later Tupolev SST Projects
Tu-144 in Uniform: Projected Military Versions
This title is well-illustrated with lots of excellent photos and drawings of the aircraft from concept through retirement. These is also excellent coverage of 'Moskva', the Tu-144LL flying laboratory that was upgraded from one of the few remaining airworthy Tu-144s in the 1990s. In a joint program between the Russia and the United States, the Tu-144LL was re-engined with a variant of the Tu-160 Blackjack's engines and conducted extensive flight testing and research into a new generation of Mach 2.4-class airliners.
This is another nice historical piece from Midland Publications and fills another void in the published information about these aircraft. Definitely recommended!
My sincere thanks to Motorbooks International for this review copy!