Yakovlev's Piston-Engined Fighters Book Review
| | | | |
| --- | --- | --- | --- |
| Date of Review | August 2005 | Title | Yakovlev's Piston-Engined Fighters |
| Author | Yefim Gordon | Publisher | Midland Publications |
| Published | 2002 | ISBN | 1-85780-140-7 |
| Format | 144 pages, softbound | MSRP (USD) | $29.95 |
Review
Here is another interesting title from Midland Publications and author Yefim Gordon - a look at the Yakovlev family of piston-engined fighters. The Yaks were the soldiers of the skies over the Soviet Union, fighting off the Luftwaffe if not by sophistication or skill, by sheer numbers. During World War Two, Soviet factories produced well over 35,000 piston-engined Yak fighters.
Once again, Yefim Gordon has pulled together archived wartime photos and historical data to bring us a look at a family of aircraft. Each of the Yak types is covered in detail, with a look at each type's development, operational history and combat effectiveness.
Each Yak model discussion is well-illustrated with photos and a breakdown of subtypes. For instance, the Yak-7 is further broken down into discussions of the UTI-26, Yak-7UTI, Yak-7R, Yak-7M, Yak-7A, Yak-7B, Yak-7-37, Yak-7M-82, Yak-7PD, Yak-7V, and a series of one-of prototypes.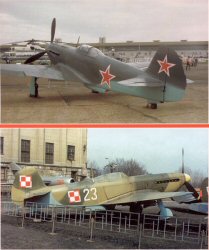 Coverage of this title includes:
Introduction
The Yak-1- Yakovlev's First Fighter
The Yak-7 - The First Derivative
The Yak-9 - The Private of the Skies
The Yak-3 - The Last of the Line
Yaks Abroad
In addition to the historical and technical coverage of this fighter, the author has also provided line drawings of the aircraft and 30 color profiles. There is even a look at the Yak-9P that was 'loaned' to the US and test-flown at Wright-Patterson AFB before being returned.
This is another nice historical piece from Midland Publications and fills a void in the published information about this aircraft. Definitely recommended!