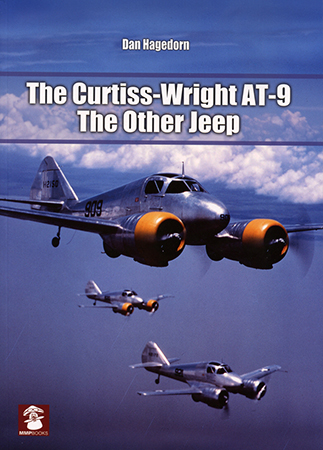 The Curtiss-Wright AT-9: The Other Jeep Book Review
| | | | |
| --- | --- | --- | --- |
| Date of Review | March 2019 | Title | The Curtiss-Wright AT-9: The Other Jeep |
| Author | Dan Hagedorn | Publisher | Mushroom Model Publications |
| Published | 2019 | ISBN | 9788365958303 |
| Format | 176 pages, hardbound | MSRP (GBP) | £20.00 |
Review
During World War II, historian Dan Hagedorn notes, "trainer types constituted at any one time more than 50% of the total AAF inventory".
Yet compared to glamorous combat and even transport types, their vital role in prepping pilots for war remains largely unsung.
Now Hagedorn robustly redresses the imbalance in The Curtiss-Wright AT-9 from MMP/Stratus – available in North America from Casemate. Subtitled "The Other Jeep", the lavishly illustrated, 176-page effort broadly divides into three parts.
The first details CW-25/AT-9 design, development, production, and stablemate competitors. The second traverses – unit-by-unit, station-by-station – all "Jeep" deployments and assignments from surviving records. And the third surveys AT-9 plumage through the prism of color photos and profiles.
With hostilities imminent, the prewar U.S. military sought rapidly to expand pilot training programs. And purchasing civilian types and new trainers of non-strategic materials appeared convenient, efficient ways to achieve that goal – especially for multi-engine, "transition" instruction.
But mixed-construction designs like Cessna's AT-17/UC-78 and Beech's AT-10 largely failed to withstand rigorous military training efforts – and abusive fledgling aviators.
Enter AT-9.
With modern monocoque metal construction, Curtiss-Wright's purpose-built design proved "the preferred twin-engine advanced type at nearly every training station which employed it".
Hagedorn notes that, even with "teething problems and occasional flight limitations", it was, "as a design, far more durable and robust than the AT-17/UC-78 and AT-10 series, while performing and handling more like the actual combat types that the cadets would be migrating towards."
But postwar, he adds, "not a single AT-9 or AT-9A ever gained our United States civil aircraft registration identity [author's italics]." And only one – a composite of several aircraft – survives today.
Pity. Pity, too, that a paucity of scale AT-9 models also exists: just the limited-run Pavla and vacuum-formed Execuform 1/72 kits.
Curtiss-Wright's curvaceous trainer exudes attractive, almost art-deco, appeal. And its lovely lines certainly complement any display of WWII twins. Maybe MMP's book will inspire an enterprising manufacturer to take the plunge.
After all, Hagedorn includes just about everything to kick-start a kit. Photos, profiles, specifications, tables, extended captions, and more augment the account. Even surprises like AT-9 armament and "administrative SNAFUs" merit mention!
How about that shot of AT-9s with a mix of pre- and post-June 1943 USAAF insignia at Blackland AAF? Or that view of a bellied-in Jeep with a personal nose marking? And how would you like to buy a surplus AT-9 – "where is/as is" – for $150?
I savored every fascinating page. And I roundly recommend it. I just wish I could have bought a surplus AT-9 – "where is/as is" – for $150!
A closing comment …
Curtiss-Wright's AT-9 owes much to the equally comely CW-19 – and its more familiar descendants, the CW-21 Interceptor (aka, "Demon") and CW-22/SNC Falcon trainer.
Dan Hagedorn has authoritatively researched all. So may we also enjoy a similarly superb study of those dapper, single-engine Curtiss-Wright designs?
How about it, MMP/Stratus?
With thanks to MMP for the review copy.