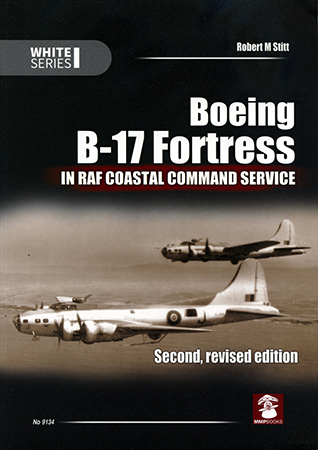 The Boeing B-17 Flying Fortress in RAF Coastal Command Service Book Review
| | | | |
| --- | --- | --- | --- |
| Date of Review | September 2019 | Title | The Boeing B-17 Flying Fortress in RAF Coastal Command Service |
| Author | Robert M. Stitt | Publisher | Mushroom Model Publications |
| Published | 2019 | ISBN | 9788365281548 |
| Format | 224 pages, softbound | MSRP (GBP) | £29.00 |
Review
If you missed this terrific tome the first time around, grab it – now.
The title says it all.
MMP's revised, expanded Boeing B-17 Fortress In RAF Coastal Command Service tells the whole terrific tale in 51 succinct sections across 224 lavishly illustrated pages.
Modelers will love it.
Contents include significantly updated, expanded camouflage & markings details, delivery remarks, and service commentary.
The latter include intriguing notes on an ill-fated Fortress I detachment to Egypt, B-17Es in RAF-style warpaint, and USAAF B-17Fs with Air Ministry serials. I forgot that B-17Cs purchased by Britain were originally intended for high-altitude bombing missions.
Over 80 new photos season the study. Juanita Franzi's updated scale drawings reflect new information from Boeing archives. And her terrific color profiles offer plenty of potent project potential.
So do photos. Want to know how to weather the ventral surfaces of your RAF Fortress? That shot on page 86 will definitely help. Looking for a unique conversion? How about a 40-mm nose cannon installation?
Ten QR codes link to bonus online content. Thirteen appendices include everything from maps and individual aircraft histories to nose art and DuPont paint chips. And extended captions, indices, and primary and secondary sources further augment the account.
Author Robert M. Stitt's first edition – originally MMP's landmark 100th title – has long remained the definitive précis of RAF Coastal Command B-17s. Now his remarkable revision superbly supplants even that vital volume.
Grab this splendid survey.
With thanks to MMP for the review copy.