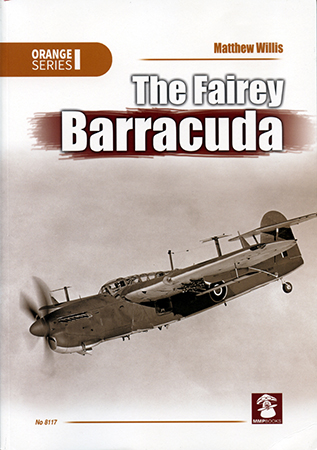 The Fairey Barracuda Book Review
| | | | |
| --- | --- | --- | --- |
| Date of Review | May 2017 | Title | The Fairey Barracuda |
| Author | Matthew Willis | Publisher | Mushroom Model Publications |
| Published | 2017 | ISBN | 9788365281241 |
| Format | 168 pages, hardbound | MSRP (BP) | $39.00 |
Review
Ever since my pubescent paws first fondled FROG's ancient offering, Fairey's Barracuda really appealed to me.
That awkward airframe. Those cumbersome contours. The ungainly outline. Something ceaselessly snared my interest.
If you feel as I do, snag this book!
Naval aviation historian Matthew Willis recounts the design, development, deployment and disposition of Fairey's angular attacker in a terrific, 168-page tome from MMP Publications – available in North America from Casemate.
It's all there. The aircraft's troubling gestation. Its alarming accident rate. The Operation Tungsten attack on Nazi Germany's battleship Tirpitz. Barracudas against Japan. Postwar service.
Over 100 of excellent photos – many previously unpublished – illustrate the account. And many clearly depict aircraft details for modelers.
Weathering your Barracuda undersides? Check out that shot on page 88. Weapons racks? Turn to page 145. And how about that uniquely beautiful Barracuda pilot picture on page 46?
Excellent 1:48 and 1:72 scale drawings help fact-check your kit. And 15 pages of color plates provide plenty of project possibilities.
The "Barracuda Assessed" chapter proved particularly illuminating. "The Fairey Barracuda divides opinion like few other aircraft" essentially sums up the book. And chapter end notes, extended captions and personal anecdotes augment the effort. But why no selected bibliography?
Tackling Special Hobby's 1:48-scale kit? Lavishing attention on MPM's 1:72 offering? This splendid study certainly supplants all previous Fairey Barracuda references. But FAA insignia of many "Barracudas heading for the Far East" bore a white bar outlined in blue – not a "blue bar ... white outlined".
Robustly recommended!
With thanks to Casemate for the review copy.