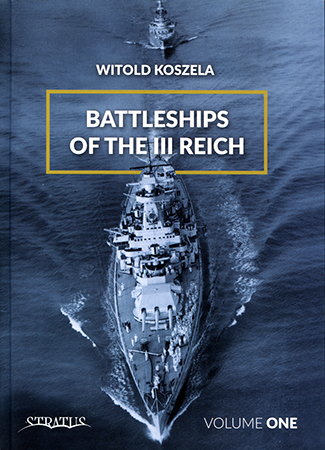 Battleships Of The Third Reich, Volume 1 Book Review
| | | | |
| --- | --- | --- | --- |
| Date of Review | November 2018 | Title | Battleships Of The Third Reich, Volume 1 |
| Author | Witold Koszela | Publisher | Mushroom Model Publications |
| Published | 2018 | ISBN | 9788365281814 |
| Format | 168 pages, hardbound | MSRP (GBP) | £35.00 |
Review
MMP examines Battleships Of The Third Reich in the first of a lavishly illustrated, two-part survey.
Subjects include the four earliest "new construction" vessels to see Kriegsmarine service during WWII:
Deutschland (Lützow)
Admiral Scheer
Admiral Graf Spee
Scharnhorst
Author/illustrator Witold Koszela kick-starts contents with introductory notes on the dismantling of Imperial Germany's battleship fleet after WWI.
The onerous Treaty of Versailles left defeated Germany with just a handful of obsolete "pre-Dreadnaught" designs. Two of these actually survived to see action in WWII.
Koszela's study then segues to separate sections on each of three "pocket battleships" – "'stronger than the faster, and faster than the stronger'" – and thence to one on Scharnhorst, the "first true German battleship".
Individual chapters chart each warship's design, construction, distinguishing characteristics, service, and fate. Coverage also includes dimensional, performance, armament, and armor specifications – and details differences and service modifications among vessels in the same class.
Koszela's chronicle will certainly help accuratize, date, and sex your "pocket battleship" kit.
Footnotes and tables further augment text. Captions accompany hundreds of photos and illustrations. Painting notes recap warpaint changes. And biographies, action accounts and anecdotes – even humorous – color commentary.
To that last point, though, I'd colloquially translate von Hindenburg's quip at Deutschland's launching as, "Thunderation! I think the boat's a total teetotaler!"
Coverage really turns meaty for modelers at the back of the book. That's where you'll find eight beautiful, full-color fold-out pages of paint schemes – profile and plan views – for all subjects.
Start planning that next project!
My biggest complaint? Exactly what scale(s) are Koszela's superb line drawings?
Lack of scale references, in fact, posed problems with drawings in every MMP naval book I've reviewed. And the practice risks lowering the appeal of these otherwise terrific titles for modelers.
Regardless, Battleships Of The Third Reich provides informative, handy histories of these legendary Nazi German warships. I can't wait for Volume 2.
Recommended!
I want to thank MMP for this review copy.