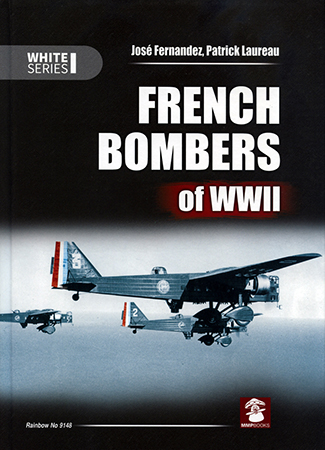 French Bombers of WWII Book Review
| | | | |
| --- | --- | --- | --- |
| Date of Review | April 2019 | Title | French Bombers of WWII |
| Author | Jose Fernandez, Patrick Laureau | Publisher | Mushroom Model Publications |
| Published | 2019 | ISBN | 978-8363678593 |
| Format | 288 pages, hardbound | MSRP (GBP) | £35.00 |
Review
Let's cut to the chase, English-language readers: if your library includes one book on French Bombers of WWII, make it this one.
MMP's lavishly illustrated, eponymous effort tells the whole terrific tale in 288 pithy pages.
Old, "angular uglies". New, streamlined designs. Attack planes. Naval machines. Even imports. Authors Jose Fernandez and Patrick Laureau recap everything in six illuminating parts:
Old Generation Bombers
Modern Bombers
Attack Aircraft
Imported Aircraft
Bomber Training Aircraft
Prototypes Under Test In 1939–40
Chapters further divide into subsections by type. And each, in turn, includes subject development, technical, variant, and service notes.
The last naturally focus, mostly unit-by-unit, on French use. But they also chronicle Spanish Civil War and foreign operations. And coverage includes, where applicable, combat commentary.
France's newest and best bombers – like the Lioré-et-Olivier LeO 451 and Amiot 351/354 – endured prolonged gestations and onerous introductions. And during 1940's desperate fighting, older, obsolescent designs often bore the brunt of stopgap service.
Surprises abound, too.
In the first Allied air attack on Berlin, for instance, Farman NC.223.4 Jules Verne dropped 2,000 kg of bombs – and the flight engineer's "heavy flying boots" – on Nazi Germany's capital. And, surprisingly, "[a]mong the pilots … to reinforce" GB II/34 before France collapsed was famous French aviatrix Maryse Hilsz!
Dimensional and performance specifications supplement subsections. And multi-view plans to "fit-the-page" scales further season the survey.
MMP's picture-packed production also sports hundreds of period photos and dozens of color profiles. But don't expect dorsal and ventral camouflage plates – one of the book's awkward shortcomings.
The "German invasion of Southern France" also occurred in 1942 – not 1943. And some details of profiles don't match those on reference photos.
Additionally, I don't think the Bloch MB.131 "looked much like the Bloch MB.210". And what really happened to Amiot 351/354 No.117 "saved by Félix Amiot during the occupation"?
My kingdom for the answer!
Nitpicks notwithstanding, I loved this superb survey. It's a one-volume resource on a badly neglected, but critical, WWII topic. And for many readers, it's in English.
Now maybe the book's beautiful Amiot 351 and 354 color profiles will finally inspire an enterprising manufacturer to offer 1:72-scale kits of that comely combatant. How about it, Azur FRROM?
Robustly recommended!
With thanks to MMP for the review copy.