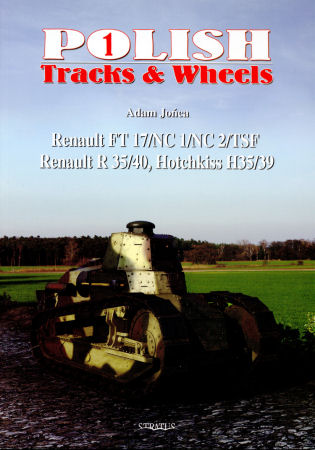 Renault FT 17/NC 1/NC 2/TSF, Renault R35/40, Hotchkiss H35/39 Book Review
| | | | |
| --- | --- | --- | --- |
| Date of Review | August 2013 | Title | Renault FT 17/NC 1/NC 2/TSF, Renault R35/40, Hotchkiss H35/39 |
| Author | Adam Jonca | Publisher | Mushroom Model Publications |
| Published | 2009 | ISBN | 9788361421016 |
| Format | 104 pages, softbound | MSRP (USD) | $27.00 |
Review
The first Allied tanks facing Nazi fury during WWII were Polish.  And French equipment comprised key components of Poland's defenses.
That's the fascinating tale of MMP/Stratus' first "Polish Tracks & Wheels" installment – available from Casemate in North America.  Author Adam Jonca recaps it in 104 color-packed pages.  And the title succinctly sums it up: Renault FT 17/NC 1/NC 2/TSF, Renault R 35/40, Hotchkiss H35/39.
It's impressively informative, too.  Coverage courses from the end of WWI through battles with Bolsheviks and developments between wars to Germany's September 1939 assault – and eventual exile in France.
Early-armor enthusiasts: grab your drool cups!  At least 200 rare reference photos and 29 beautiful color plates flavor this fulsome feast.  Illustrations logically track Jonca's chronological narrative.  And for modelers, artwork – including heraldry – offer excellent modeling inspiration.
I especially enjoyed the section on "attempts to modernise FT-17 tanks".  Railroad-mounted variants also equally intriguing.  And Gen Stanislaw Maczek's exploits illuminated the staggering saga of Polish armored forces in exile.
A couple concerns cloud this otherwise outstanding effort.  Captions proved decidedly difficult to follow against Stratus' gray and green background stripes.  Boldface text – or a font with thicker strokes – would vastly improve readability.  And Jonca's tale sometimes failed to translate smoothly to English – a common problem with MMP/Stratus productions.  So assiduous attention to vernacular, diction and grammar might help, too.
But, hey, I quibble.  With its rotating turret, Renault's pioneering FT-17 – star of this impressive production – certainly sired the modern tank concept.  And for that reason alone, it belongs in any collection of historically significant armored vehicles.
At least 120 FT-17s saw Polish service.  And over two turbulent decades, colorful examples fought both Soviet and Nazi invaders.
Seeking spectacular WWII schemes for Takom's pending 1:16-scale model – or RPM's 1:35 item?  Look here!
Robustly recommended!
With thanks to Casemate for the review copy.