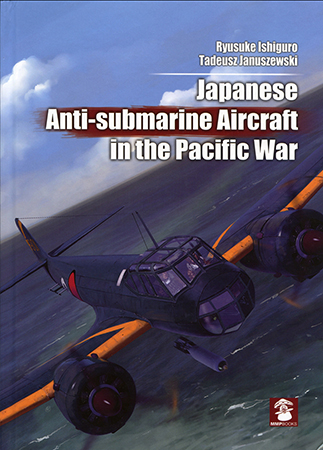 Japanese Anti-Submarine Aircraft in the Pacific War Book Review
| | | | |
| --- | --- | --- | --- |
| Date of Review | September 2018 | Title | Japanese Anti-Submarine Aircraft in the Pacific War |
| Author | Ryusuke Ishiguro, Tadeusz Januszewski | Publisher | Mushroom Model Publications |
| Published | 2018 | ISBN | 978-83-65281-39-5 |
| Format | 248 pages, hardbound | MSRP (GBP) | £35.00 |
Review
As Allied naval forces methodically and relentlessly destroyed WWII Japan's maritime commerce, starving the island nation of critical resources, anti-submarine warfare (ASW) assumed progressively critical importance to the island nation.
Now Ryusuke Ishiguro and Tadeusz Januszewski spotlight Imperial aerial assets in Japanese Anti-Submarine Aircraft in the Pacific War – an intensely illuminating, singularly superb study from MMP Books.
The handy hardback spans eight spellbinding sections across 248 picture-packed pages:
Patrol air service of the Imperial Japanese Navy
Anit-submarine units of the Imperial Japanese Air Force and operation tactics
Sea escort air group of the Imperial Japanese Navy Air Service
Aircraft of the Navy Air Service used for patrol and submarine dection
Aircraft of the Army Air Service used for patrol operations
Equipment of patrol and anti-submarine aircraft
Japanese aerial anit-submaring bombs and torpedos
Escord carriers of the Imperial Japanese Army
Individual chapters showcase every WWII Japanese anti-submarine aircraft proposed and produced during the conflict. Navy and Army. Both dedicated designs and adapted airframes. With ordinance.
Renowned warplanes like Aichi's E13A Jake, Kawanishi's H8K Emily, Mitsubishi's G4M Betty, and Nakajima's B5N Kate share space with obscure entries like Kayaba's Ka-Go autogyro, Kyushu's K11W, and Kobeseiko's Te-Go STOL parasol.
Each aircraft subject section summarizes design, development, and, where applicable, deployment. Coverage of operational types includes technical data, production totals, and fates. And tables summarize dimensions, weights, and performance.
Level of detail is outstanding. Fact-checking, for instance, FineMolds' Lorna landing gear? You'll find authoritative wheel dimensions here. How about Q1W flap angles? Authors share those, too. And official Lorna paint colors? A one-page table lists all.
Excellent.
Coverage of Imperial Japanese Army ASW aircraft, operations, and carriers proved particularly riveting. The IJA, for instance, remains the only belligerent to have employed autogyros in combat.
Hundreds of photos, scale drawings, color profiles, and cut-aways illustrate the effort. And a selected bibliography wraps things up.
This singularly splendid study of an oft-neglected topic superbly supplements MMP's earlier volumes on Imperial Japanese submarine-based aircraft and the Kugisho E14Y "Glen".
It deserves, in short, special space in every Pacific War enthusiast's library. But that's a C-46 Commando – not C-47.
Robustly recommended!
I want to thank MMP for this review sample.