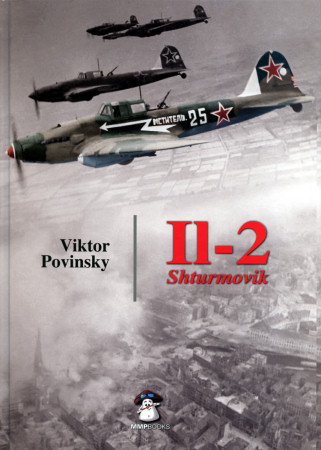 Il-2 Shturmovik Book Review
| | | | |
| --- | --- | --- | --- |
| Date of Review | January 2015 | Title | Il-2 Shturmovik |
| Author | Viktor Povinsky | Publisher | Mushroom Model Publications |
| Published | 2014 | ISBN | 9788363678371 |
| Format | 208 pages, hardbound | MSRP (BP) | £35.00 |
Review
Billed as an "illustrated technical history of the most famous Soviet warplane of World War Two", MMP's Il-2 Shturmovik wonderfully recaps this classic combatant for aviation historians, enthusiasts and modelers alike.
Over 36,000 Il-2s were manufactured – the largest single warplane production run in history.  And contents commence with Shturmovik development and variant details.  Packed with 1:72- and 1:48-scale drawings, MMP summarizes all key airframe, armament, internal and application derivatives over nearly 90 pages.
Coverage then turns meaty for modelers in the book's second half.  That's where you'll find several dozen color plates – both profile and plan views – and nearly 60 pages of close-up shots.
Detail fanatic?  Grab your drool cup!  Massive measures of minutiae tincture text.  Wood wings.  Metal wings.  Swept wings.  Canopy variations.  Fuselage variations.  And armament.
Did you know that nearly a thousand specialized – but unsuccessful – "anti-tank" versions with twin 37mm or 45mm canon were manufactured?  And did you know that the formula for winter white distemper comprised chalk and casein – a milk-based – glue?  I didn't, either!
A couple concerns.  I would have liked Federal Standard matches or approximates for Soviet camouflage call-outs.  Artwork color contrasts could be better, too.  You can barely discern differences between the dark gray and dark green on 1943 warpaint patterns.  And operational notes appear as occasional asides in copy and captions.
But enough nitpicks!  This magnificent monograph carries my highest recommendation.  And I hope this study signals a whole new MMP series.
Make this handy handbook part of your library.
With thanks to MMP for the review copy.