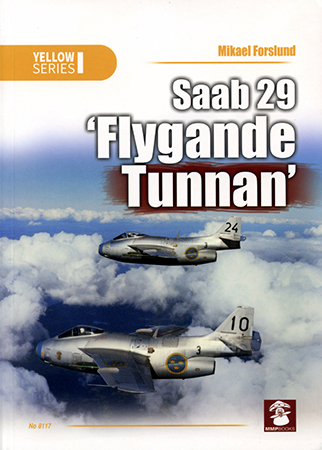 Saab 29 'Flygande Tunnan' Book Review
| | | | |
| --- | --- | --- | --- |
| Date of Review | September 2017 | Title | Saab 29 'Flygande Tunnan' |
| Author | Mikael Forslund | Publisher | Mushroom Model Publications |
| Published | 2017 | ISBN | 9788365281340 |
| Format | 192 pages, hardbound | MSRP (BP) | $39.00 |
Review
Building Hobby Boss' 1/48 Saab J 29? Tackling Heller's ancient, 1/72 effort? Grab this vital volume.
Saab 29 'Flygande Tunnan' distills the design, development, deployment and disposition of Western Europe's first operational swept-wing jet fighter. And what a terrific tome it is.
Available in North America from Casemate, MMP's capably concise chronicle charts every major Saab 29 production variant over 192 pages:
J 29A
J 29B
A 29B
S 29C
J 29E
J 29F
Partially financed "through a scholarship from Veteranklubben Saab/Sivert Wards minnesfond", the lavishly illustrated effort also details every Saab 29 unit in Swedish and Austrian service - including Sweden's "Air Target Squadron". Accompanying tables include serial numbers, delivery dates, units and codes, and comments on serving aircraft. And coverage recaps the type's only international combat deployment - during fighting in the newly independent Congo, 1961-1963.
Contents include the J 29D and paper "projects", too. And technical minutiae on the aircraft and weapons neatly wrap things up.
Fact-check the Heller and Matchbox kits with MMP's superb 1/72-scale plans. Motivate your modeling muse with Thierry Vallet's coruscating color profiles and inset art. And detail your Tunnan with dozens of drawings, close-up photos and tech-manual excerpts. Tons of pretty pictures here.
What a brilliant book. I loved every pithy page. And it carries my highest recommendation.
Now maybe MMP and author Forslund will offer a similarly stunning study on Saab's legendary Draken family!
With thanks to Casemate for the review copy.