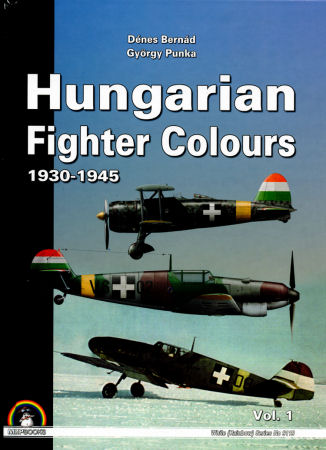 Hungarian Fighter Colours Vol. 1 Book Review
| | | | |
| --- | --- | --- | --- |
| Date of Review | October 2013 | Title | Hungarian Fighter Colours Vol. 1 |
| Author | Dénes Bernád and György Punka | Publisher | Mushroom Model Publications |
| Published | 2013 | ISBN | 9788361421719 |
| Format | 188 pages, hardbound | MSRP (USD) | $69.00 |
Review
East-Front Axis aircraft enthusiast?  Buy, beg or borrow this brilliant book.  Then prepare to alter your ideas of Hungarian warplane warpaint.
MMP's Hungarian Fighter Colours Vol. 1 – available in North America from Casemate – offers the first authoritative, English-language study of this fascinating topic.
The inimitable Dénes Bernád and György Punka methodically mine and milk original sources.  And in some cases, they literally excavate actual evidence to craft their amazingly absorbing account.
After illuminating introductory sections – including, surprisingly, the complete contents of Vol. 2 – coverage proceeds, chapter-by-chapter, through nine aircraft types:
Fokker D.XVI
FIAT CR.20
AVIS I-IV
FIAT CR.30
FIAT CR.32
FIAT CR.42
Messerschmitt Bf 109D
Messerschmitt Bf 109E and
Messerschmitt Bf 109F
Each chapter, in turn, comprises two parts: operational service and camouflage & markings.  The lavishly illustrated opus sports over 250 photos and 60 color profiles.  And appendices summarize Hungarian fighter types, unit organization and deployments, and rank equivalents.
Surprises abound.  Like that cool, customized CR.32 "cow" camouflage.  Time to break out Classic Airframes' kit!  And Hungary's scheme to re-engine CR.32s with Gnome-Rhône 14M Mars radials – the prototype of which displayed superior climb to a Heinkel He 112B in trials.
But minor gremlins haunt this otherwise excellent effort.  The top view of CR.32 V.164 mistakenly appears on page 99 – then, properly, with its profile on page 102.  The shot of CR.42 V-237 reveals denser top wing mottling than Balácz Kakuk's plan view depicts.  Photos also confirm that Stone Grey G.1100 displayed a wider range of tonality than book artwork suggests.
But I quibble.  MMP has forged a deservedly brilliant reputation with terrific tomes like this.  Get this superb study – now.  Then fight for a place in line behind me for Vol. 2!
Rabidly recommended.
Now where can I get a DVD of the movie, Magyar Sasok???!!!
With thanks to Casemate for the review copy.