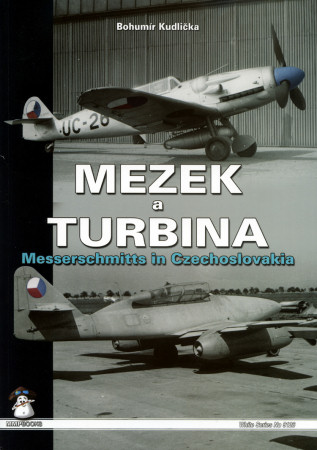 Mezek a Turbina: Messerschmitts in Czechoslovakia Book Review
| | | | |
| --- | --- | --- | --- |
| Date of Review | September 2014 | Title | Mezek a Turbina: Messerschmitts in Czechoslovakia |
| Author | Bohumír Kudlicka | Publisher | Mushroom Model Publications |
| Published | 2014 | ISBN | 9788363678081 |
| Format | 112 pages, softbound | MSRP (USD) | $39.00 |
Review
After World War II, author Bohumír Kudlicka reveals, "Czechoslovakia became the largest user of German aircraft in the world."
That fascinating fact sets the stage for his intriguing Mezek a Turbina, MMP's survey of Bf 109s and Me 262s in postwar Czechoslovak service – available in North America from Casemate.
It's a terrific tale of ingenuity, innovation and – intermittently – intrigue.  Contents commence with the May 1945 collapse of Hitler's Third Reich.  And that quickly spurred efforts to resurrect Czechoslovakia's aviation industry and air force – chiefly from the ashes of local Nazi German production facilities and war booty.
With vast numbers of Bf 109s manufactured, Messerschmitt's aging design proved an obvious production option.  Unfortunately, Kudlicka notes, a warehouse fire destroyed Czechoslovakia's stock of DB 605 engines.  And the Jumo 211 with heavier, paddle-bladed prop was substituted.
Thus emerged the Avia S-199, an intriguing fighter with some truly fearsome features.  By almost every performance and reliability measure, it proved inferior to the original Bf 109 G-10.  But pending arrival of modern equipment imports, the "Mezek" – or "Mule" – remained Czechoslovakia's only option.
The new fighter entered both Czechoslovak Air Force and Police Air Force service.  The latter, Kudlicka reveals, operated 120 aircraft, at least 70 of which were fighters – and included the Focke Achgelis Fa 223 Drache helicopter among its assets!
Text next turns to the book's other protagonist: the Avia S-92, Czechoslovakia's attempt to manufacture Me 262 jet fighters.  The 1948 Communist coup, however, brought Czechoslovakia into the Soviet sphere.  Large-scale deliveries of MiG-15s ensued.  And while hundreds of S-199s saw service, perhaps a dozen "Turbina" – "Turbine" – jets entered production.
Mezeks continued in Czechoslovak close-support and second-line use throughout the 1950s.  But they really gained international fame in Israeli service.  And that's where contents conclude.
Section author José Fernandez tracks the purchase, delivery and deployment of Avias during Israel's war of independence.  He also discloses the interesting origin of the country's national insignia – and of its legendary 101 Squadron "death's head" badge.  And he candidly notes the type's surprising successes – and frequently fatal flaws.
Possibly suggesting the German meaning of "Messerschmitt", the S-199 was dubbed "Knife" in Israeli use.  And in an ironic instance of cosmic karma, this Nazi German design proved the key instrument of air superiority for the nascent Jewish state.
Like most MMP titles, Mezek a Turbina sports plenty of pretty pictures.  The generously illustrated contents include dozens of B&W photos, detail shots, color plates, scale drawings and archival illustrations.
Nitpicks?  A few.
Hand-painted Israeli fuselage serials varied noticeably in style.  But artist Teodor L. Morosanu's otherwise excellent profiles inaccurately depict code uniformity.  Historian K.A. Merrick's latest research has effectively discredited claims of Israeli S-199s in overall "RLM 68".  And the Hebrew word "Knife" is properly transliterated "Sakkin" – not "Sakhin".
But I quibble.  If you're seeking a convenient chronicle of Czechoslovakia's fascinating, flying footnotes, get MMP's absorbing account.  I enjoyed it.
Recommended!
With thanks to MMP for the review copy.