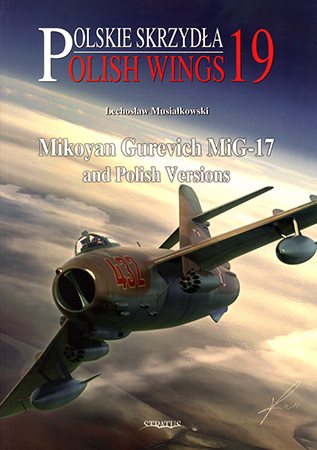 Mikoyan Gurevitch MiG-17 and Polish Versions Book Review
| | | | |
| --- | --- | --- | --- |
| Date of Review | March 2017 | Title | Mikoyan Gurevitch MiG-17 and Polish Versions |
| Author | Lechoslaw Musialkowski | Publisher | Mushroom Model Publications |
| Published | 2015 | ISBN | 9788363678272 |
| Format | 88 pages, softbound | MSRP (USD) | $29.00 |
Review
MiG-17 Frescoes remain among the world's most widely used, most colorful jet warplanes in history.
Now MMP captures some of the aircraft's most strikingly brilliant schemes in Mikoyan Gurevich MiG-17 and Polish Versions – 19th installment in the publisher's superb "Polish Wings" range.
Author Lechoslaw Musialkowski's compact, lavishly illustrated study spans just 88 pithy pages. But he therein recaps the development and history of every major MiG-17 variant in Polish use:
Soviet-build MiG-17F/PF
Polish-build Lim-5 (1C)
Lim-5P (1D)
Lim-5R
Lim-5M (1F)
Lim-6 (1J)
Lim-6bis/Lim-6R (1J)
Lim-6M/Lim-6MR
Musialkowski seasons his stew with hundreds of color and B&W shots. Add Karolina Holda's always outstanding color plates – at least 40 profile, plan and partial views. And the combination certainly surveys the striking swath of Polish MiG-17 warpaint.
This Cold War eye candy will certainly motivate your modeling muse!
And as if that weren't enough, MMP includes a large, two-sided, pull-out sheet authoritatively detailing Polish Fresco stencils.
Feed your inner AMS demon.
Extended, explanatory captions deliver depth to book details. And many helpfully include US Federal Standard (FS) matches and approximates for Poland's bold MiG-17 camouflage colors.
What a stunning study. I simply couldn't put it down. Add this magnificent little monograph to your Cold War library. And let it inspire your next MiG-17 model.
Rabidly recommended!
With thanks to Casemate for the review copy.