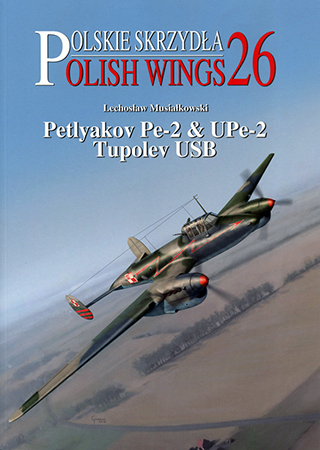 Petlyakov Pe-2 and UPe-2, Tupolev USB Book Review
| | | | |
| --- | --- | --- | --- |
| Date of Review | July 2019 | Title | Petlyakov Pe-2 and UPe-2, Tupolev USB |
| Author | Lechoslaw Musialkowski | Publisher | Mushroom Model Publications |
| Published | 2019 | ISBN | 9788365958426 |
| Format | 80 pages, hardbound | MSRP (GBP) | £15.00 |
Review
Soviet classics Petlyakov Pe-2 & UPe-2, and Tupolev USB dominate the 26th Polish Wings volume from MMP/Stratus.
Over 120 Pe-2s comprised Poland's 1st Bombardment Division, formed in WWII's waning days. When the country turned communist, Petlyakov's design remained the main component of postwar Polish bomber units.
Now author Lechoslaw Musialkowski tells the terrific tale of Polish "Peshkas" in 80 picture-packed pages.
The book's first half covers development and deployment remarks for combat Pe-2s in Polish service. Personal accounts and anecdotes tincture text. And notes on "paint schemes and markings" conclude commentary.
Fascinating facts spice MMP's slim study.
Soviet officers, for instance, apparently piloted many Polish Pe-2s – with Polish personnel only along in support roles. Difficult to fly and maintain, Petlyakov's war-weary airframes also proved susceptible to crashes and accidents – acquiring a nasty "flying coffin" reputation.
Musialkowski further reveals the role of Polish minelayer ORP Gryf, sunk during September 1939's German invasion, in Pe-2 history. And he illumines propaganda efforts to disguise Polish unit strength.
Contents then turn meaty for modelers with 21 pages of superb Polish Pe-2 color plates by the ever-excellent Karolina Holda. Reference photos conveniently accompany each subject. And artwork includes profile, plan, inset, and detail views.
Few match Holda's amazing artistry and accuracy.
For the book's two trainer subjects: lather, rinse, and repeat – but, with no loss of quality, in understandably fewer pages.
Over 100 shots augment the whole account. Explanatory captions accompany both photos and artwork. And a table recaps "Pe-2 and UPe-2 aircraft in Poland".
What an outstanding effort. MMP offers amazing insights into Pe-2 operations and colors. Enthusiasts of both Polish and Soviet warplanes will love it. I certainly did.
Just two questions. Is the film Soldier of Victory available on DVD? And why did each (?) Peshka crew member receive "an egg and bar of chocolate" after flights to 4,500m?
Robustly recommended!
With thanks to MMP for the review copy.