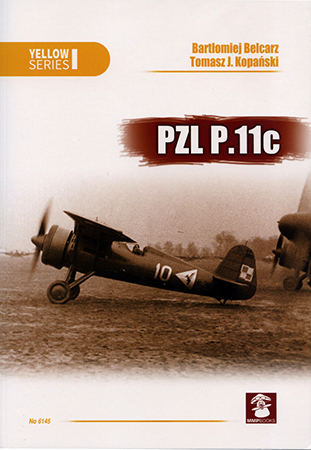 PZL P.11c Book Review
| | | | |
| --- | --- | --- | --- |
| Date of Review | June 2020 | Title | PZL P.11c |
| Author | Bartlomiej Belcarz, Tomasz J. Kopanski | Publisher | Mushroom Model Publications |
| Published | 2020 | ISBN | 9788366549067 |
| Format | 152 pages, softbound | MSRP (GBP) | £20.00 |
Review
Obsolete, outnumbered, and alone, Polish Air Force fighters first faced the full fury of Hitler's Luftwaffe in 1939's "September Campaign". And the PZL P.11c symbolized that vain, valiant fight.
Now MMP competently chronicles the classic combatant in no. 6145 of the publisher's expanded "Yellow Series".
Spanning 152 picture-packed pages, contents commence with design and development notes – then segue to unit-by-unit Polish combat coverage.
Sixty pages of technical details come next. And an enormously illuminating essay by Marek Rogusz surveys 1939 Polish fighter camouflage & markings.
How about that ultra-rare Nobiles company paint chart?
Nor does text elusively survey Polish P.11c aircraft. Authors also note actions of the "a" variant and earlier P.7. And commentary includes international – chiefly Romanian – P.11c use.
Hundreds of illustrations season the study. Period photos. Museum shots. Tech-manual excerpts. Scale drawings. Warpaint. And more.
You name it, it's here.
Dozens of close-ups dutifully depict the full range of P.11c details – inside and out. And at least 29 pages of color plates – profiles, plan views, and insets – provide plenty of potent project potential.
Modelers will love it.
This vital volume completely supplants MMP's previous, limited "Yellow Series" volume on the same subject.
Robustly recommended!
With thanks to MMP for the review copy.