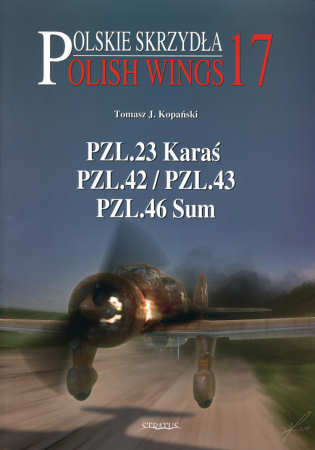 PZL.23 Karas, PZL.42/PZL.43, PZL.46 Sum Book Review
| | | | |
| --- | --- | --- | --- |
| Date of Review | November 2013 | Title | PZL.23 Karas, PZL.42/PZL.43, PZL.46 Sum |
| Author | Tomasz J. Kopanski | Publisher | Mushroom Model Publications |
| Published | 2013 | ISBN | 9788363678098 |
| Format | 88 pages, softbound | MSRP (USD) | $29.00 |
Review
One of Poland's most important warplanes during Nazi Germany's 1939 invasion, the PZL.23 Karas suffered 86% losses – highest of any Polish combat aircraft.
That's because the Karas, originally designed as an army cooperation (liniowe) machine, also served as an attack and dive bomber – roles for which it was not intended.  Survivors escaped to Romania – where they eventually fought Soviet forces on WWII's Eastern Front.  Fifty of the related PZL.43 version also entered Bulgarian service.
Now Karas variants dominate the 17th installment of MMP/Stratus' colorful "Polish Wings" series – available in North America from Casemate.
The 88-page, English-language account recaps all operational and prototype derivatives:
PZL.23 Karas I ("P.23A")
PZL.23 Karas II ("P.23B")
PZL.42
PZL.43
PZL.43A
PZL.46 Sum
Format follows the publisher's proven prescription.  Each lavishly illustrated section includes a capsule variant history with color plates of typical aircraft schemes.  Photos and extended captions support all artwork.  And the whole compact compendium concludes with a superb précis of Polish, Romanian and Bulgarian camouflage – complete with FS matches.
Building Mirage's 1:48-scale kits?  Tackling Heller's ancient 1:72 offering?  Make this handy handbook your guide to Poland's PZL.23 Karas family.
Roundly recommended!
With thanks to Casemate for the review copy.