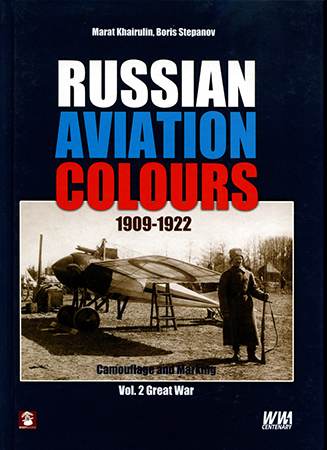 Russian Aviation Colours 1909-1922 Book Review
| | | | |
| --- | --- | --- | --- |
| Date of Review | February 2017 | Title | Russian Aviation Colours 1909-1922 |
| Author | Marat Khairulin, Boris Stepanov | Publisher | Mushroom Model Publications |
| Published | 2015 | ISBN | 9788365281005 |
| Format | 176 pages, hardbound | MSRP (USD) | $75.00 |
Review
MMP's superb survey of Imperial Russian military aviation enters the "Great War" with the second volume of Russian Aviation Colours 1909-1922.
And what a sumptuous smorgasbord it is.
Sikorsky S-12s and S-16s. SPAD VIIs. Moranes. Voisins. And Nieuports. Plenty of Nieuports – 11s, 12s, 17s, 21s, 23s and 27s.
Dozens of beautiful color plates – profiles, plan views and insets – tincture text. Dozens more rare, previously unpublished aircraft photos – many from private collections – augment artwork. And all come backed by brilliantly researched, thoroughly annotated manuscript.
Modelers will go ga-ga over the project possibilities. How about that seductive Nieuport 21 mermaid on page 80? Or that amazing Nieuport 23 artistry on page 120? Or that spooky Nieuport 23 "death's head" rudder five pages later?
Text comes packed with fascinating facts. The segue on international talismans and mascots, for instance, proved surprisingly spellbinding. Imagine sculpting seven miniature elephants on the nose of your miniature Voisin?
Quibbles? Some.
Perhaps it's I, but I see "1 Sb" – not "4 Sb" – on that Voisin on pages 12-13. Text should read Sikorsky "S-16" – not "C-16" – on, for instance, pages 113 and 134.
Nitpicks all.
The 1917 revolutions – and the 1918 Treaty of Brest-Litovsk – failed to end fighting. And authors hint at even more remarkable revelations in MMP's final two volumes of Russian Aviation Colours 1909-1922.
My late mother always cautioned against "wishing your life away". But I, for one, can't wait. In the meantime, grab this terrific tome – and Volume 1.
Robustly recommended!
I want to thank Casemate for this review sample.