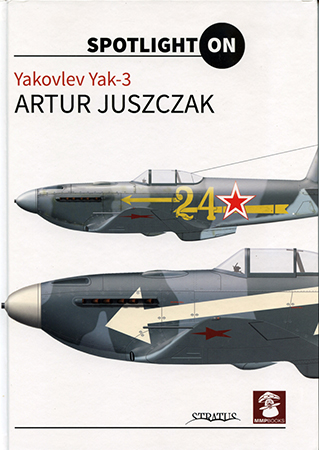 Yakovlev Yak-3 Book Review
| | | | |
| --- | --- | --- | --- |
| Date of Review | June 2018 | Title | Yakovlev Yak-3 |
| Author | Artur Juszczak | Publisher | Mushroom Model Publications |
| Published | 2017 | ISBN | 9788365281487 |
| Format | 44 pages, hardbound | MSRP (USD) | $35.00 |
Review
Arguably World War II's premiere lightweight fighter, the fast, agile Yak-3 forged fame as one of the conflict's most potent warplanes.
Yakovlev Yak-3 – part of MMP's "Spotlight On" series – sports 42 superb color plates by Artur Juszczak.
Soviet. French. Yugoslav. Juszczak superbly samples the sumptuous swath of Yak-3 warpaint. And his stunning artwork will certainly motivate your modeling muse.
Contents commence with a one-page "Introduction". That's where you find handy performance, service and markings notes on the lithe little design.
The study then swiftly segues to color plates – all of Yak-3s with VK-107PF2 engines. Each sports one profile, operator notes, and camouflage comments. Grab those Yak-3 kits!
Gripes? No plan views! MMP: will you please consider including top and bottom aspects – even small insets – to those pulchritudinous profiles? Subject reference photos wouldn't hurt, either.
Add some color to your collection. Get this vivid "Spotlight On" volume.
Robustly recommended!
With thanks to Casemate for the review copy.