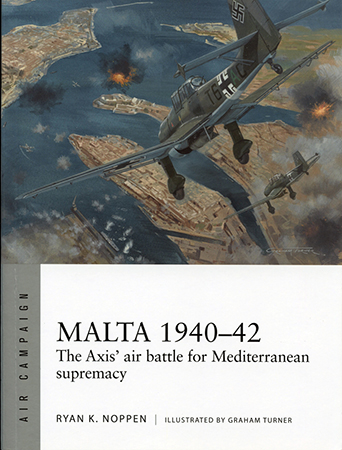 Malta 1940–42 Book Review
| | | | |
| --- | --- | --- | --- |
| Date of Review | April 2018 | Title | Malta 1940–42 |
| Author | Ryan K. Noppen | Publisher | Osprey Publishing |
| Published | 2018 | ISBN | 9781472820600 |
| Format | 96 pages, softbound | MSRP (USD) | $20.00 |
Review
Strategically situated Malta remained a major obstacle to Axis ambitions in the Mediterranean and Africa during WWII.
Now Ryan K. Noppen recaps the failed Italian and German air campaign to subdue the island in Malta 1940–42 – fourth in Osprey Publishing's new "Air Campaign" series.
Subtitled "The Axis' air battle for Mediterranean supremacy", author Noppen's slim study traverses nine parts over 96 pages:
Introduction
Chronology
Attackers' Capabilities 1940
Campaign Objectives
Defenders' Capabilities 1940
Attackers' Capabilities 1941-42
The 1941-42 Campaigns
Defenders' Capabilities 1941-42
Analysis
Mussolini opened the campaign immediately after entering World War II in June 1940. But by year's end, Italy suffered disasters and defeats in Greece and Africa. And the Regia Aeronautica alone proved incapable of subduing Malta.
Enter Nazi Germany. Its High Command felt that, like Crete, airborne forces could, ultimately, conquer the island. And with "more capable aircraft and heavier ordinance", Luftwaffe airpower dutifully pounded the island until June 1941's attack on Soviet Russia.
For the next six months – with German resources diverted to Operation Barbarossa and Axis convoys once again reaching North Africa – Fascist Italy reassumed responsibility for Malta.
Invasion never happened. One last Axis push in 1942 returned the Luftwaffe in force. But by October, Hitler's goals shifted from neutralizing Malta to protecting Rommel's supply lines.
Noppen's handy "analysis" neatly sums things up. Photos, maps, battle schematics, action paintings, and extended captions tincture text. And a selected bibliography and index conclude coverage.
Despite a lack of annotations, Osprey's fourth "Air Campaign" installment provides useful bases for further study of the campaign – and, obliquely, of Malta's significance to WWII history. But Freccia – not Saetta – is "arrow" in Italian.
Recommended!
My sincere thanks to Osprey Publishing for this review sample!