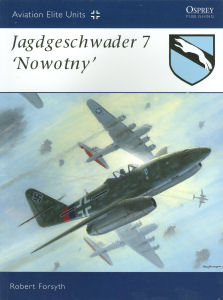 Jagdgeschwader 7 'Nowotny' Book Review
| | | | |
| --- | --- | --- | --- |
| Date of Review | October 2008 | Title | Jagdgeschwader 7 'Nowotny' |
| Author | Robert Forsyth | Publisher | Osprey Publishing |
| Published | 2008 | ISBN | 978-1-84603-320-9 |
| Format | 128 pages, softbound | MSRP (USD) | $25.95 |
Review
Being the first at anything is usually not a good thing. While there is usually history made when there is a first, it isn't always the kind of history you'd intentionally make. When Germany fielded the first operational jet-powered fighter with the Me 262, the mantle of first operational user of the type fell upon Jagdgeschwader 7.
JG 7 was formed to operate the new jet fighter, and it was named after the iconic eastern front ace Walter Nowotny. Nowotny had a meteoric rise to fame flying for JG 54 'Green Hearts' against the Russians and had accumulated an impressive kill score, but not without a few close calls in the process. He had accumulated an impressive score of 255 kills before being withdrawn from combat to become a propaganda spokesman. When JG 7 was formed to operate the Me 262, he became the group's first commander. A few months later, Nowotny was killed in action and despite his combat record and experience, he was only 23 at the time of his death.
Many of the pilots that initially came into JG 7 had valuable combat experience in fighters, inevitably the group would also receive the inevitable flow of trainees and low-time pilots who not only needed transition training into the jet, they also needed to learn how to employ the type in combat.
There are numerous interviews and summaries from those who were there and the lessons they learned against a persistent foe. Despite the superiority of the Me 262, in the end, it was sheer numbers of enemy aircraft exploiting the weaknesses of the German jet that rendered the type ineffective.
The author has gathered an impressive amount of information that documents the trials and tribulations of JG 7 and its experiences being the 'first' with jet-powered air combat. While some might wonder what the fascination of this type of history might be to the average reader, I learned from the best that looking at history and how people worked through challenges and apply lessons learned, regardless of the uniforms worn, will come in handy under similar circumstances today and into the future.
This is another one of Osprey's great historical monographs and is definitely worth reading and keeping on the shelf for future reference.
My sincere thanks to Osprey Publishing for this review sample!