No.617 'Dambuster' Sqn Book Review
| | | | |
| --- | --- | --- | --- |
| Date of Review | October 2009 | Title | No.617 'Dambuster' Sqn |
| Author | Alex Bateman | Publisher | Osprey Publishing |
| Published | 2009 | ISBN | 978-1-84603-429-9 |
| Format | 128 pages, softbound | MSRP (USD) | $25.95 |
Review
Most aviation buffs know the famous 617 Sqn for their unique Lancaster B.Is that carried the Wallis bomb against the key dams in German controlled regions of western Europe. These uniquely configured Lancasters didn't end their operational significance after the raid. If the Lanc could carry a huge spinning drum under its recessed fuselage, what other 'outsized cargo' could it carry?
The author has compiled one of the best collections of photos and color profiles of the squadron and its compliment of aircraft. The coverage takes the story from the formation of the unit to attack the dams to after the war when the unit's aircraft were finally stricken.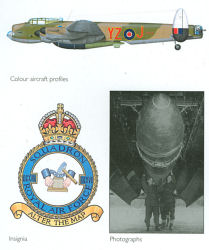 Coverage of this title includes:
Formation and Training
Operations On
The Cheshire Era
Mosquitos
Tallboy
'Shipbusting'
Grandslam
Afterwards
Indeed, the aircraft carried the largest conventional weapons of World War II, the Tallboy and Grandslam, both of which were too large to be carried within the bomb bays of any available conventional bomber. These Lancaster B.I (special) aircraft not only carried the huge bombs, they were also evaluated for transporting and dropping boats (complete with a crewman).
In addition to the Lancaster, 617 Sqn also operated the de Havilland Mosquito in fighter escort roles as well as high-speed/low altitude target marking aircraft. They even had a few Mustangs on the rolls as well. This title takes a good look at the aircraft, crews, tactics, and operational achievements made by this unique squadron throughout the war. Ship busting? You really wouldn't want to be on the Tirpitz while 617 Sqn was delivering its heavy weapons!
Osprey's titles cram alot of history into its monographs and this is an excellent read for those that want a top-level look at the combat history of this bomb group. The details behind these summaries will fill volumes, and this will also serve as a good starting point from which to drill down into the details for aviation historians. This is another one of Osprey's great historical monographs and is definitely worth reading and keeping on the shelf for future reference.
My sincere thanks to Osprey Publishing for this review sample!