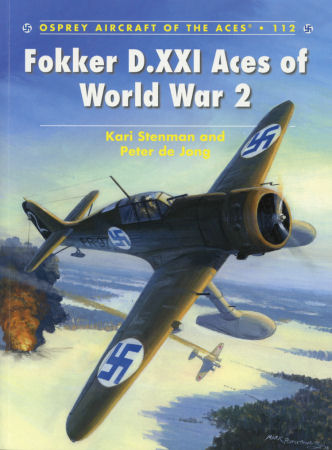 Fokker D.XXI Aces of World War 2 Book Review
| | | | |
| --- | --- | --- | --- |
| Date of Review | June 2013 | Title | Fokker D.XXI Aces of World War 2 |
| Author | Kari Stenman, Peter de Jong | Publisher | Osprey Publishing |
| Published | 2013 | ISBN | 9781780960623 |
| Format | 96 pages, softbound | MSRP (USD) | $22.95 |
Review
Sure it's a flying footnote.  But from the time I first fondled FROG's kit, the lithe little Fokker D.XXI remained a personal favorite.
Despite manifest obsolescence at the start of World War II, the plucky pursuits exacted heavy tolls on aggressors.  In the hands of Finnish heroes, they bloodied Soviet invaders during 1939-1940's Winter War.  And they comprised the core of Dutch air strength during Nazi Germany's 1940 Blitzkrieg.
That's why I loved Osprey's Fokker D.XXI Aces of World War 2.  Noted authors Kari Stenman and Peter de Jong finally tell the tale of this fundamentally forgotten fighter in 96 action-packed pages:
Chapter 1 Origins
Chapter 2 Into Service
Chapter 3 Winter War
Chapter 4 War In The West
Chapter 5 Obsolescence
Lots of enthralling anecdotes tincture text.  That's where, for instance, you'll discover World War II's first "ace in a single mission" – Finnish 1Lt Jorma Sarvanto, who downed six Ilyushin DB-3 bombers in January 1940.
Fascinating photos and cool color art motivated my modeling muse.  And helpful lists, appendices and index augment Osprey's absorbing account.  I just wish profiles included color details.  A couple maps might have clarified things, too!
Surviving Finnish D.XXIs served in operational reconnaissance roles until September 1944.  The last retired from training duties in 1948.  But they still remain dear to Fokker fanatics like me.
So try prying this terrific little tome from my cold, dead fingers.  As a D.XXI devotee, I absolutely loved it.  And if you seek breaks from Mustangs and Messerschmitts, Spitfires and Shturmoviks, you will, too.
Rabidly recommended!
My sincere thanks to Osprey Publishing for this review sample!