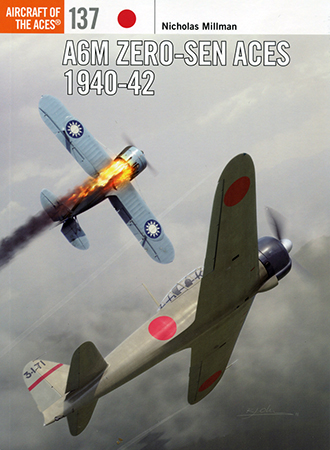 A6M Zero-sen Aces 1940-42 Book Review
| | | | |
| --- | --- | --- | --- |
| Date of Review | May 2019 | Title | A6M Zero-sen Aces 1940-42 |
| Author | Nicholas Millman | Publisher | Osprey Publishing |
| Published | 2019 | ISBN | 9781472821447 |
| Format | 96 pages, softbound | MSRP (USD) | $24.00 |
Review
In the early 1940s, Mitsubishi's legendary A6M fighter forged repute for near-invincibility.
Now Nicholas Millman superbly surveys its early successes in A6M Zero-sen Aces 1940-42 – 137th in Osprey's extensive "Aircraft of the Aces" range.
Over 150 Imperial Japanese Navy Air Force (IJNAF) pilots claimed five or more victories in the fighter. But Millman's account remains more than a "Who's Who of Zero-sen aces or a chronology of all of their claimed victories".
Instead, "it seeks to describe the aircraft, its notable pilots and famous units within the context of the campaigns fought". And he admirably achieves that in just 96 pithy pages over six, chronologically arranged, "Kendo-flavored" chapters:
Forging the Blade
Wielding the Blade – China 1940-41
Thrusting the Blade – The Carrier Aces
Slashing the Blade – Across the Islands
Parrying the Blade – 4th Kokutai
Relentless Blade – Tainan Kokutai
From Zero-sen's stunning combat debut at the Air Battle of Pi-shan over China through victories at Pearl Harbor and the Philippines to reversals at Midway and Guadalcanal, he seasons his combat chronicles with intriguing biographic commentary.
How about those four IJN pilots who, amidst battle, audaciously landed on a Chinese airfield – and attempted to destroy revetted enemy warplanes?
It's full of fascinating facts.
Ever wonder how Zero-sens faired against the wide range of American, British, Chinese, and Dutch designs during early Pacific fighting? Check here.
Surprises abound, too.
What accounted for startling TBD Devastator survivability during Coral Sea combat? What did A6M pilots really think of Bell P-39 Airacobras? And could Hudson bombers actually double as fighters?
Millman offers answers.
Photos and extended, explanatory captions season the study. Introductory notes and appendices bracket main text. A helpful graphic illumines the "Hineri-komi" maneuver. And 33 of Ronnie Olsthoorn's superb profiles pack plenty of model-project inspiration.
But with no annotations, where's a selected bibliography for readers seeking further study?
Additionally, given its chronology constraints, Osprey's volume naturally spotlights A6M2 and A6M3 variants. So why nothing on A6M2-N "Rufe" floatplane use?
Still, Millman wonderfully relates A6M design, development, and deployment through the prism of pilots and actions. And a sequel promises to address "later variants and their operations".
Line-up behind me for that one.
Robustly recommended!
My sincere thanks to Osprey Publishing for this review sample!