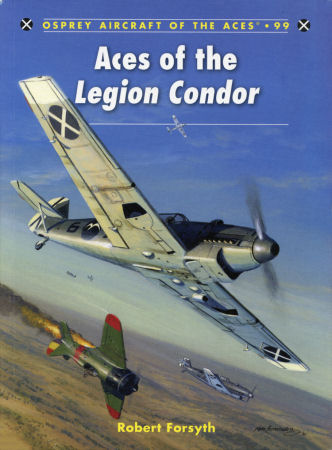 Aces of the Legion Condor Book Review
| | | | |
| --- | --- | --- | --- |
| Date of Review | May 2012 | Title | Aces of the Legion Condor |
| Author | Robert Forsyth | Publisher | Osprey Publishing |
| Published | 2011 | ISBN | 9781849083478 |
| Format | 112 pages, softbound | MSRP (USD) | $22.95 |
Review
Some historians dub the Spanish Civil War a "dress rehearsal" for World War II in Europe.  But it also presaged the Eastern Front's clash of ideologies between Fascism and Communism.
That's how Adolph Hitler viewed Iberian events in July 1936.  And therein, as Aces of the Legion Condor reveals, lies the origin of Germany's Legion Condor.
Robert Forsyth's capsule account begins with two remarkable Volksdeutsche from Spain – businessman Johannes Bernhardt and mining engineer Adolph Langenheim.  Accompanied by rebel Spanish Air Force Capitán Francisco Arranz Monasterio, the pair sought direct audience with the Führer.  Nothing less than German military intervention, they argued, could thwart the "Bolshevik danger" to Spain.
Hitler agreed.  And events moved swiftly.  By early August, the first so-called Sonderstab W "volunteers" with six He 51 fighters – nucleus of the future Legion Condor – arrived at Seville airfield.  And for the next 32 months, Spain became Germany's aerial warfare laboratory.
Osprey's excellent Aces of the Legion Condor proceeds chronologically, chapter-by-chapter, through the conflict:
Chapter 1 – Magic Fire
Chapter 2 – Early Battles
Chapter 3 – The Bf 109 arrives Mölders' men
Chapter 4 – To the North!
Chapter 5 – Fighting on all Fronts
Naturally concentrating on fighter actions, author Forsyth details the operations of personnel flying He 51's and, eventually, Bf 109's.  The latter dominated Spanish skies.  And many Germans scored five or more Republican kills in Messerschmitt mounts.
Absorbing anecdotes and fascinating photos pepper passages.  Seven pages of color profiles with heraldry offer ample modeling inspiration.  And useful charts, appendices, and index supplement text.  Only the maddening lack of maps frustrated an otherwise enjoyable experience!
Recommended.
My sincere thanks to Osprey Publishing for this review sample!