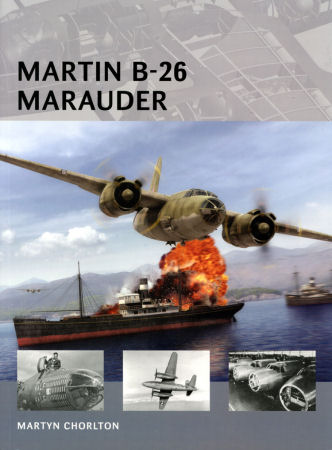 Martin B-26 Marauder Book Review
| | | | |
| --- | --- | --- | --- |
| Date of Review | December 2012 | Title | Martin B-26 Marauder |
| Author | Martyn Chorlton | Publisher | Osprey Publishing |
| Published | 2013 | ISBN | 9781780966052 |
| Format | 64 pages, softbound | MSRP (USD) | $18.95 |
Review
Osprey Publishing's Martin B-26 Marauder highlights a WWII medium bomber unable to escape its early reputation as a dangerous aircraft – a notoriety more attributable to inexperienced pilots than to the design itself.
Following a short introduction, author Martyn Chorlton dedicates most of the first half to B-26 development and technical specifications.  Therein, Chorlton includes handy tables summarizing aircraft's physical characteristics and armament.
The real meat lies in the second half.  Here the author concentrates on the B-26's short, but crucial, operational history.  Marauders proved their mettle in their first action against the Japanese at Rabaul in April 1942.  Despite no fighter escort, B-26 crews not only fended off defending fighters, but claimed some A6M Zeros, as well.
The author concludes with a summary detailing the aircraft's unfortunate fate as scrap metal mere days after the war ended.  Luckily, not all were scrapped.  Glenn Martin himself saved the forward fuselage section of the most famous B-26, Flak Bait – a B-26B with over 200 missions.
That legendary bomber carries personal meaning.  My paternal grandfather – Sgt Milan J "Link" Veres – served as a radio operator with the 449th Bombardment Squadron, 322nd Bombardment Group.  As part of the "Annihilators", he saw Flak Bait every day!
Further reading recommendations and index completes Osprey's useful account.
Photographs and artwork by Adam Tooby and Henry Morshead complement the author's narrative.  Needing some modeling ideas?  Eight color profiles offer readers project inspiration.
For readers craving more, the back cover offers related titles including three assessed by me.  See my Cybermodeller reviews for the Osprey's Allison-Engined P-51 Mustang (September 2012), B-24 Liberator Units of the CBI (October 2012) and USAF McDonnell F-4 Phantom II (June 2013).
Decidedly recommended.
My sincere thanks to Osprey Publishing for this review sample!