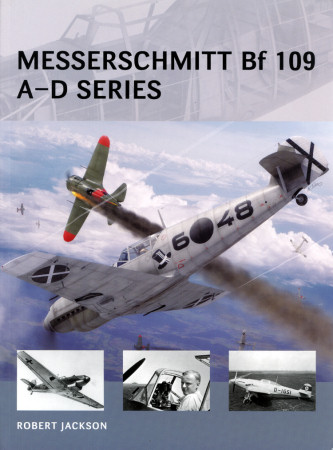 Messerschmitt Bf 109 A–D Series Book Review
| | | | |
| --- | --- | --- | --- |
| Date of Review | February 2015 | Title | Messerschmitt Bf 109 A–D Series |
| Author | Robert Jackson | Publisher | Osprey Publishing |
| Published | 2015 | ISBN | 9781472804860 |
| Format | 64 pages, softbound | MSRP (USD) | $18.95 |
Review
Seeking a handy handbook on the earliest "Augsburg Eagles"?  Try Messerschmitt Bf 109 A–D Series – 18th title in Osprey's growing "Air Vanguard" series.
Coverage commences with Willy Messerschmitt's biographical details and early aeronautical work.  Author Robert Jackson traces his first designs – and especially notes the Bf 108 Taifun's impact on Bf 109 development.
Messerschmitt aimed at building the "lightest and smallest possible airframe around the most powerful aero engine under development in Germany at the time, the 610 hp Junkers Jumo 210A."
The new design – Project Number P.1034 – incorporated the latest aeronautical advancements: automatic leading-edge slats, slotted flaps, enclosed cockpit, retractable landing gear and flush-riveted, monocoque structure.
After design and development notes, Jackson sideslips to Bf 109 competitors and the Me 209 propaganda machine.  Combat deployment – initially during the Spanish Civil War, and thence to early World War II service – follows.
Confused about Messerschmitt "Bf" and "Me" prefixes?  Jackson explains their use.  He also does an excellent job of recapping, say, Messerschmitt's rationale for the aircraft's narrow-track undercarriage.  And he spices his story with photos, extended captions, color profiles, tables and sidebars.  I especially liked his chart noting key differences among early production models.
Nitpicks?  That's PZL P.11a – not a PZL P.11c – on page 54.  I'd like more on that strange Condor Legion D-1 on page 43.  And while illustrator Adam Tooby's action paintings pack plenty of pep, his color profiles, sadly, fall flat.
Camouflage & markings notes, selected bibliography, and index complete contents.
The tale doesn't end there.  Substituting the Daimler-Benz DB 601 for the Junkers Jumo 210 transformed an underpowered, under-armed mediocrity into a potent weapon.  And at least 35,000 Bf 109s followed.
But that's another story.  Osprey's compact compendium conveniently and competently recaps the "early 109" saga.  Make it your launchpad to further study of Messerschmitt's legendary fighter.
Recommended!
My sincere thanks to Osprey Publishing for this review sample!