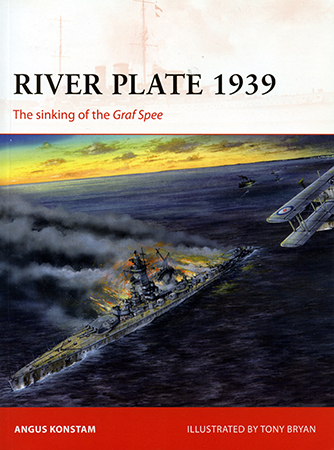 River Plate 1939 Book Review
| | | | |
| --- | --- | --- | --- |
| Date of Review | November 2016 | Title | River Plate 1939 |
| Author | Angus Konstam | Publisher | Osprey Publishing |
| Published | 2016 | ISBN | 9781472817952 |
| Format | 96 pages, softbound | MSRP (USD) | $24.00 |
Review
The sinking of Nazi Germany's "pocket battleship" Graf Spee gave Britain its first major naval victory of World War II.
Ably skippered by Kapitän zur See Hans Langsdorff, the Nazi vessel menaced merchant shipping throughout the South Atlantic and Indian oceans in late 1939.
At least 22 major Allied warships – including four aircraft carriers and three battlecruisers – hunted Graf Spee. Three months later, three Royal Navy cruisers of Force G finally cornered the elusive Panzerschiff in neutral Montevideo harbor, Uruguay. And Langsdorff, fearing arrival of more powerful Allied reinforcements, scuttled Graf Spee.
Now author Angus Konstam tells the tale in River Plate 1939 – 171 in Osprey Publishing's extensive "Campaign" series.
Suitably subtitled "The Sinking of the Graf Spee", the succinct study surveys the pursuit's background, execution and aftermath in dazzling detail.
Everything follows Osprey's proven prescription. Contents commence with introductory notes, a WWII combat chronology and strategic overview.
Originally designed to counter French battlecruisers in the Baltic, Graf Spee and her two sisters instead assumed commerce-raiding tasks to disrupt Allied shipping and to tie-down disproportionate numbers of Allied warships. They accomplished both.
Opposing "forces", "commanders" and "plans" follow. And the "campaign" itself consumes nearly 60 of the book's 96 pages.
Graf Spee's commerce-raiding success often hinged on deception. And notes on Langsdorff's efforts to disguise the Panzerschiff's profile proved particularly intriguing. Fascinating, too, was the deductive reasoning his opponent – Force G's Commodore Henry Hardwood – employed to bring his forces into final battle with Graf Spee.
Nitpicks? Some. "SKL" signifies "Seekriegsleitung" – not the consistently misspelled "Seekriegsletiung" in text. That's a "10,000 ton limit" on page 22 – not 100,000. And that's "Río de la Plata" – not "Río de la Plate".
Brief, post-battle "aftermath" and "battlefield [sic] today" sections neatly wrap things up. And a selective bibliography and index conclude coverage. I just wish more Osprey authors included annotations. Some seeking further study might like more on, say, participating French assets – like the carrier Béarn.
Regardless, River Plate 1939 perfectly complements the author's able account of another famous naval action that year: U-47 in Scapa Flow - The Sinking of HMS Royal Oak 1939 (Raid 33). Get both.
Roundly recommended!
My sincere thanks to Osprey Publishing for this review sample!