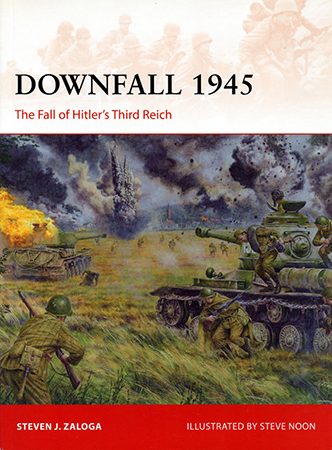 Downfall 1945 Book Review
| | | | |
| --- | --- | --- | --- |
| Date of Review | March 2017 | Title | Downfall 1945 |
| Author | Steven J. Zaloga | Publisher | Osprey Publishing |
| Published | 2016 | ISBN | 9781472811431 |
| Format | 96 pages, softbound | MSRP (USD) | $24.00 |
Review
Spring 1945 marked the ignoble end of the "Thousand Year Reich" – and World War II in Europe.
That's the setting of Steven J. Zaloga's excellent Downfall 1945. Subtitled "The Fall of Hitler's Third Reich", the handy history expertly outlines the Nazi Götterdämmerung.
Germany suffered serious manpower losses in 1944. By 1945, fuel shortages crippled its tactical mobility and training efforts. Allied air attacks systematically destroyed Hitler's production and transportation capabilities. Ill-conceived offenses further drained Wehrmacht equipment and reserves. And remaining Nazi defenses often rested on "half-baked", politically motivated plans and panaceas – including Volkssturm militias.
Flush with fuel and equipment, the Soviets and Western Allies, by contrast, literally marshaled millions. With apparently unfathomable, inexhaustible manpower and industrial capacity, Hitler's foes methodically hammered the Third Reich into rump-state status.
Zaloga helpfully summarizes unit nomenclature, comparative strengths, equipment and deployments for key combatants – Allied and Axis. Photos augment the account. Maps recap key actions. And Steve Noon's excellent action paintings capture the combat. Is there anyone better?
The absence of annotations distressed the academic in me. But Zaloga's bibliographic notes certainly suggest the vast swath of studies on Nazi Germany's demise.
Strongly recommended.
My sincere thanks to Osprey Publishing for this review sample!