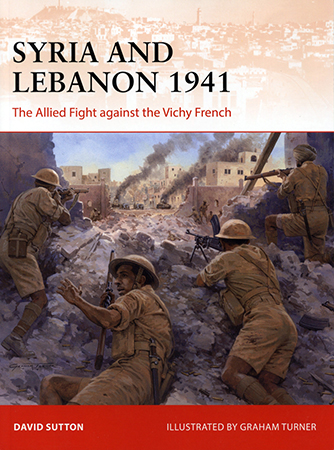 Syria and Lebanon 1941 Book Review
| | | | |
| --- | --- | --- | --- |
| Date of Review | May 2022 | Title | Syria and Lebanon 1941 |
| Author | David Sutton | Publisher | Osprey Publishing |
| Published | 2022 | ISBN | 9781472843845 |
| Format | 96 pages, softbound | MSRP (USD) | $24.00 |
Review
Axis warplanes transiting Vichy-controlled Syria in support of Iraq during May 1941's Anglo-Iraqi War partially prompted Britain's decision to invade and occupy the French protectorate.
Now author David Sutton recaps the fighting in Syria and Lebanon 1941 – number 373 in Osprey's vast "Campaign" range.
Subtitled "Allied fight against the Vichy French", contents follow the publisher's proven prescription.
After illuminating "origins" notes and chronology, summaries of opposing commanders, assets, and war plans kickstart coverage.
The slim, 96-page study then seamlessly segues to combat operations and campaign results. And while land fighting decidedly dominates details, Sutton includes brief remarks on air and naval actions.
In fact, he accurately observes that Vichy airpower played a pivotal role in stunting Commonwealth progress during the fighting's final phase.
Maps, photos, and action illustrations augment the account. Extended captions, sidebars, selected bibliography, and an index further complement commentary. And it's annotated!
But while the handful of footnotes clarifies narrative and tabular details, none specifically cites sources.
So what's the origin, for instance, of Vichy Gen. Henri Dentz's striking quote on page 23? And what's the source of notes on Arab nationalist Fawzi al-Qawuqji's support of Vichy forces?
Nitpicks aside, Syria and Lebanon 1941 remains a great introduction to this largely forgotten front. But I think Sutton means "local Arab troops" – not "local Arabic troops"!
Recommended!
My sincere thanks to Osprey Publishing for this review sample!