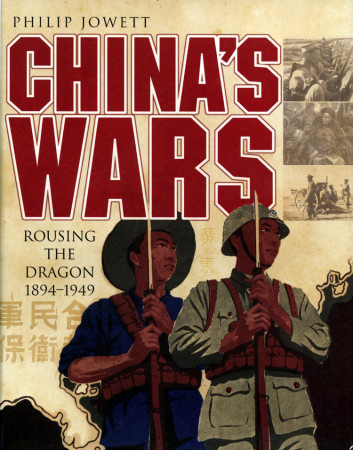 China's Wars: Rousing the Dragon 1894-1949 Book Review
| | | | |
| --- | --- | --- | --- |
| Date of Review | January 2014 | Title | China's Wars: Rousing the Dragon 1894-1949 |
| Author | Philip Jowett | Publisher | Osprey Publishing |
| Published | 2013 | ISBN | 9781782004073 |
| Format | 408 pages, hardbound | MSRP (USD) | $40.00 |
Review
China's Wars capably recaps that country's turbulent military history from the late 1800's to Mao Tse-tung's Communist conquest.
Subtitled "Rousing the Dragon 1894-1949", Osprey's hefty hardback actually begins before China's humiliating defeat in 1894's Sino-Japanese War.
Predatory foreign powers with potent, modern militaries had coveted crumbling Imperial China.  Prescient Chinese progressives, however, deplored dangerous deficiencies in their military leadership, discipline, training, tactics, weaponry and equipment.  And they urged rapid reforms of the army and navy.  But with traditionalists rigidly resisting change, competing tensions simply further crippled China.
Author Philip Jowett starts there – and dutifully demonstrates direct correlation between fratricidal Chinese tendencies and endemic national weakness.  He also deftly delineates developments of lasting consequence.
Exhibit A: "warlordism".  Jowett devotes a full chapter, and parts of all others, to Chinese iterations of this phenomenon – including insurgent, bandit, provincial and collaborationist forces.  The motif of "corruption" also courses through coverage.  And it remained a common, corrosive concern – repeatedly weakening Chinese military capabilities.  Most importantly, both issues arguably changed the course of human history.
Osprey's convenient compendium covers all main events: the Sino-Japanese War, Imperial dynastic collapse, Republican revolution, ensuing internecine struggles, the Japanese invasion, The Long March, World War II, and the Communist ascendancy.  Numerous accounts of individual campaigns and actions underpin the larger narrative.
To avoid reader "confusion", Jewett employs the older Wade-Giles transliteration system for Mandarin Chinese.  Sidebars, annotations and extended captions augment the account.  Photos, color plates and maps illustrate text.  And a selected bibliography and index conclude contents.
Some nomenclature missteps made me wince.  That's a Polikarpov R-1 with a Soviet M-5 Liberty Engine copy – not an "R1M5".  It's "P-51 Mustang" – not "Mustang 51B".  And the terms "left wing" and "right wing" more accurately reflect modern political perspectives than historical Chinese reality.
Nitpicks aside, Osprey has earned radiant repute for mapping the backwaters of military history.  China's Wars confirms that éclat.  Philip Jowett's incandescent account ably illumines this largely neglected topic.  And I thoroughly enjoyed it.
Robustly recommended!
My sincere thanks to Osprey Publishing for this review sample!