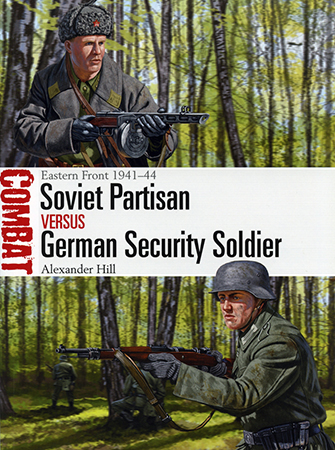 Soviet Partisan vs German Security Soldier: Eastern Front 1941–44 Book Review
| | | | |
| --- | --- | --- | --- |
| Date of Review | March 2020 | Title | Soviet Partisan vs German Security Soldier: Eastern Front 1941–44 |
| Author | Alexander Hill | Publisher | Osprey Publishing |
| Published | 2019 | ISBN | 9781472825667 |
| Format | 80 pages, softbound | MSRP (USD) | $22.00 |
Review
According to Western Allied and Hollywood propaganda, Soviet partisan formations spontaneously rose in response to Nazi Germany's brutal 1941 invasion.
In fact, the Soviets actually laid preparations "during the inter-war period to fight a partisan war in Soviet territory against any future foreign invader". More significantly, partisan units, nominally Communist Party formations, eventually "made up the vast majority of Soviet combatants in occupied territory".
Historian Alexander Hill tells the terrific tale in Soviet Partisan vs German Security Soldier: Eastern Front 1941-44 – 44th in Osprey's growing "Combat" range.
Hill devotes 32 of the book's 80 pages to background remarks on partisan and German security troops:
Origins
Recruitment and training
Equipment and fire power
Logistics and mobility
Command, control and communications
Doctrine and tactics
And those sections lay the groundwork for summaries of three Great Patriotic War clashes:
Kholm (1942)
Iasski (1942)
Operation Spring Clean (1943)
Analyses and "aftermath" remarks follow combat commentary.
With proper training and equipment, partisans proved progressively more efficient and effective with time. By contrast, with almost relentless Axis battlefield reversals as war progressed, German performance deteriorated.
Actions confirmed, Hill ultimately notes, that partisan forces – "locals stiffened with well-trained cadres from the Soviet rear" – "could take on German forces and win when they were able to take advantage of the element of surprise and field superior strength, before melting back into the forest and returning to their base areas".
Photos, color uniform plates, and action illustrations augment the account. Maps help geographically chart actions. And a glossary, military symbols chart, capsule biographies, unit organization summary, annotations, selected bibliography, and index complete contents.
Enrich your understanding of insurgent combat on WWII's Eastern Front. Grab this excellent and enlightening little account.
Recommended!
My sincere thanks to Osprey Publishing for this review sample!