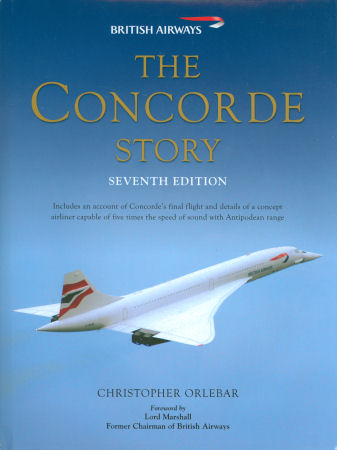 The Concorde Story Book Review
| | | | |
| --- | --- | --- | --- |
| Date of Review | April 2011 | Title | The Concorde Story |
| Author | Christopher Orlebar | Publisher | Osprey Publishing |
| Published | 2011 | ISBN | 978-1-84908-163-4 |
| Format | 248 pages, hardbound | MSRP (USD) | $35.00 |
Review
Here is the recently published seventh edition of The Concorde Story, a labor of love by author and former Concorde pilot Christopher Orlebar. When this title was first published in 1986, the author had been flying Concorde for British Airways for ten years. At that time, he assembled a great deal of information on the development of this unique design from Sir Frank Whittle's early jet-powered aircraft and exploitation German jet technology after World War Two, through the 1950s and into an achievable concept. In those days however, the funding wasn't available to develop such an advanced design alone, so the UK approached France and they collaborated to develop the aircraft that still remains the icon of future aviation.
In the editions that followed, the author updated his work with the stories and history that had transpired since the previous release. In this seventh edition, the author examines the tragic accident at Gonesse in 2000, the extensive forensics that followed that was to bring Concorde back into commercial operations, and the final flights before British Airways retired its fleet (Air France never resumed Concorde flight operations after the crash at Gonesse). In addition, the author looks at the efforts to rescue the first production Concorde to a museum, and the studies underway to take commercial flight into the next generation - Mach 5 flight.
The title has a terrific selection of color images inside and out of the Concorde throughout its lifetime and is very well written by someone who was definitely there in the cockpit. This edition also has a special Foreward written by Colin Marshall, former Chairman of British Airways and now Baron Marshall of Knightsbridge.
Coverage of this title includes:
About Supersonic Flight
The Background
The Formative Phase
Agreement with France
Taking Shape
The Other Supersonic Transports
A Stormy Beginning
The Turn of the Tide
The Flight - Acceleration
The Flight - Deceleration
Training of the Concorde Pilot
In Service
Tragedy at Gonesse
Concorde's Return to Service
Reflections
Grand Finale
Aftermath
The Future
Whether you're an aviation historian, enthusiast or modeler, this title is a must-have in your library that will not only provide you with valuable insight into the Concorde, but in a variety of aviation facts that will build up your knowledge base accordingly.
My sincere thanks to Osprey Publishing for this review sample!