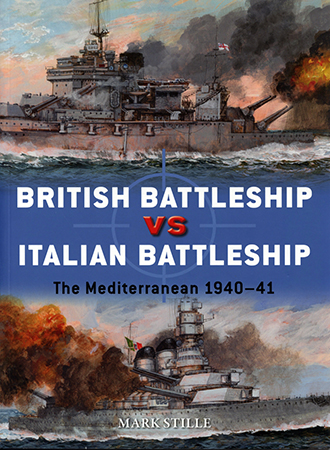 British Battleship vs Italian Battleship: The Mediterranean 1940–41 Book Review
| | | | |
| --- | --- | --- | --- |
| Date of Review | February 2020 | Title | British Battleship vs Italian Battleship: The Mediterranean 1940–41 |
| Author | Mark Stille | Publisher | Osprey Publishing |
| Published | 2019 | ISBN | 9781472832269 |
| Format | 80 pages, softbound | MSRP (USD) | $22.00 |
Review
"Despite the few instances of direct engagement, the battleships of the two navies played a key role in every major naval engagement in the Mediterranean during 1940 and 1941."
That's author Mark Stille on the British Battleship vs Italian Battleship: The Mediterranean 1940–41 – 101st in Osprey' "Duel" range.
And what a handy handbook it is.
Format follows the publisher's proven prescription. After illuminating introductory remarks and chronology, Stille launches his succinct, 80-page study with four background chapters:
Design and Development
The Strategic Situation
Technical Specifications
The Combatants
His fact-packed review includes illuminating notes on battleship designs, weaponry, performance, employment, and personnel.
Contents hit crescendo with "combat" commentary on the "indecisive" battles of Calabria (9 July 1940) and of Cape Spartivento (27 November 1940). Because it "was fought at extremely long range", Stille claims the latter "barely qualifies as a battleship duel".
He also recaps other engagements – notably the sinking of three Italian battleships during Britain's bold air attack on Fascist Italy's Taranto anchorage in November 1940, and the destruction of three Regia Marina heavy cruisers during the Battle of Matapan in March 1941.
Photos, warship and armament color plates, action paintings, and maps illustrate the account. But the number of bow stripes on page 40's Vittorio Veneto plan view differs from that on page 59's overhead starboard shot.
Capsule biographies, extended captions, tables, analyses, and "aftermath" comments further supplement the study. And a selected bibliography and index neatly wrap things up. Unfortunately, don't expect annotations.
Stille actually extends his narrative through Italy's September 1943 volte-face. And that nicely puts his titular timespan into better and broader perspective.
Under "actual combat conditions", he notes, Italian battleship main guns failed "to sink a single enemy ship during the naval war in the Mediterranean."
Despite that – and Regia Marina's largely "timid" tactics – Stille insists that Italy's navy ultimately achieved strategic success by keeping its central Mediterranean supply lines to Africa open.
Exaggeration? Get Stille's compact little chronicle – and judge for yourself!
My sincere thanks to Osprey Publishing for this review sample!