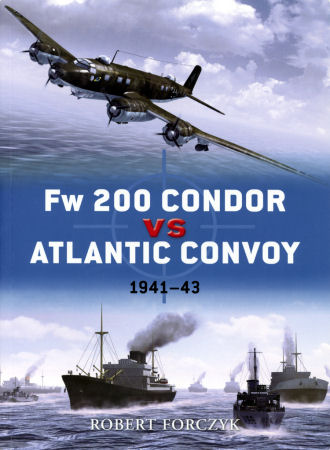 Fw 200 Condor vs Atlantic Convoy 1941–43 Book Review
| | | | |
| --- | --- | --- | --- |
| Date of Review | June 2012 | Title | Fw 200 Condor vs Atlantic Convoy 1941–43 |
| Author | Robert Forczyk | Publisher | Osprey Publishing |
| Published | 2010 | ISBN | 9781846039171 |
| Format | 80 pages, softbound | MSRP (USD) | $17.95 |
Review
With France's defeat in 1940, England again faced strangulation by submarine.  But to this "scourge", Churchill added air attack.  And "most formidable", he warned, was Germany's Fw 200 maritime patrol and strike bomber.
Fw 200 Condor vs Atlantic Convoy brilliantly analyzes the Battle of the Atlantic through the prism of these two participants.
After a brief introduction with chronology, author Forczyk discusses design and development of Focke-Wulf's converted airliner. As Commonwealth countermeasures improved, iterations featured greater armament and performance.  Yet Condor success actually peaked in early 1941.
Contents also cover British shipboard antiaircraft defenses and convoy fighter protection schemes.  Of these, Fighter Catapult Ships (FCSs) and Catapult Armed Merchant (CAM) vessels plainly proved wasteful stopgaps.  Only with the first escort carrier, HMS Audacity – itself a converted captured German merchantman – did the Allies achieve enduring ascendancy over the Luftwaffe threat.
Both sides, the author contends, displayed admirable adaptivity and innovation.  But Condor's "psychological impact", he adds, ultimately outweighed its true value.
Forczyk's splendid study concludes with illuminating analyses and bibliographic notes.  Illustrations, photos, sidebars, charts, maps, and glossary supplement this enormously informative effort.
Rabidly recommended.
My sincere thanks to Osprey Publishing for this review sample!