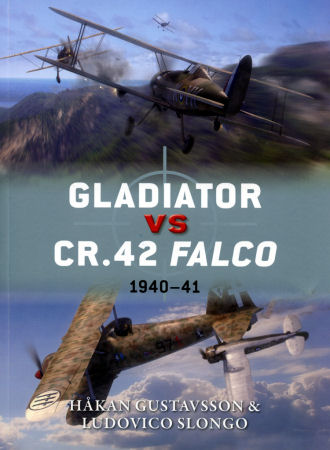 Gladiator vs CR.42 Falco: 1940–41 Book Review
| | | | |
| --- | --- | --- | --- |
| Date of Review | January 2013 | Title | Gladiator vs CR.42 Falco: 1940–41 |
| Author | Håkan Gustavsson, Ludovico Slongo | Publisher | Osprey Publishing |
| Published | 2012 | ISBN | 9781849087087 |
| Format | 80 pages, softbound | MSRP (USD) | $18.95 |
Review
Biplanes dominating early aerial actions in World War II Africa echoed the "dawn patrols" of previous conflicts.
Håkan Gustavsson and Ludovico Slongo aim "to produce an unbiased account of what really happened, and provide a fair description for both of the sides involved" in Gladiator vs CR.42 Falco: 1940–41 – the latest, fascinating installment in Osprey's acclaimed "Duel" series.
And what a terrific tale it is.  At the beginning of the war, authors note, "Italy confronted British and Commonwealth forces in the Mediterranean and onto mainland fronts – North Africa and East Africa.  Over each of these sectors the fighter forces were equipped almost exclusively with Fiat and Gloster biplanes."
After a pithy preface with chronology, coverage competently courses through each aircraft's design, development and details.   Text next turns to the overall strategic situation and combatants – before recapping aerial engagements over Africa, Greece, Malta and Iraq.
Illuminating photos, illustrations, statistics, sidebars, captions, charts, analyses and bibliography superbly season this sumptuous study.  A large map strategically pinpoints unit deployments.  An "aftermath" dissects each type's fate.  And a useful index brings all to tidy conclusion.
But don't stop there.  Two other outstanding Osprey titles ably augment this excellent effort.
Gustavsson and Slongo's Fiat CR.42 Aces of World War 2 (Aircraft of the Aces 90) and Andrew Thomas' Gloster Gladiator Aces (Aircraft of the Aces 44) feature details of additional users and operations.  Note, for instance, that Belgium flew both types – and that Finland almost did!  Together, both volumes also sport dozens of outstandingly evocative color profiles by Richard Caruana and John Weal, respectively.
Building RODEN's Gladiator?  Contemplating ITALERI's Falco?  Reference these three books for a rewarding modeling experience!
Robustly recommended.
My sincere thanks to Osprey Publishing for this review sample!