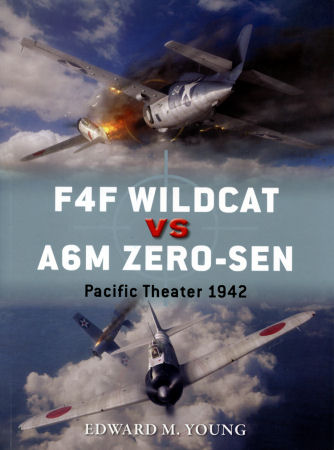 F4F Wildcat vs. A6M Zero-sen Book Review
| | | | |
| --- | --- | --- | --- |
| Date of Review | May 2013 | Title | F4F Wildcat vs. A6M Zero-sen |
| Author | Edward M. Young | Publisher | Osprey Publishing |
| Published | 2013 | ISBN | 9781780963228 |
| Format | 80 pages, softbound | MSRP (USD) | $18.95 |
Review
Subtitled "Pacific Theater 1942", Osprey's F4F Wildcat vs. A6M Zero-sen pits the surprisingly modern and agile Japanese carrier fighter against its more rugged US counterpart.  Despite inferiority in climb rate and speed to the Zero, the Wildcat's armament, structural strength and tactics eventually proved superior against the more nimble rival.
Following a succinct introduction and chronology, author Edward M. Young describes each aircraft's design evolution and technical parameters through most of the first half.  A useful comparison chart recapping preceding pages neatly completes this portion.
The author begins the second half briefly detailing the strategic situation – Japan's Pearl Harbor attack and early Pacific campaign.  Subsequent pages delve into the book's true meat – opposing combatants' training programs and aerial combat techniques, most notably Lt John Thach's Beam Defense Position or "Thach Weave".
Sixty-four historic photographs and artwork by illustrators Jim Laurier and Gareth Hector supplement Young's superlative narrative.  However, readers seeking modeling inspiration might be disappointed: Osprey's effort includes no color profiles.
A statistics and analysis section again highlights the three critical factors contributing to the F4F's success over the A6M. Young also includes a table listing 1942 Wildcat Aces, beginning with USMC Capt Joseph Foss – the highest scoring with 16 A6M kills.
Aftermath, further reading suggestions and an index complete this fine book.
Highly recommended.
My sincere thanks to Osprey Publishing for this review sample!