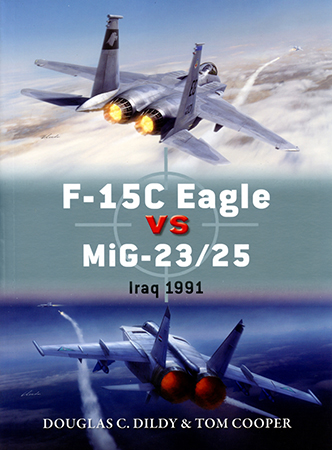 F-15C Eagle vs MiG-23/25: Iraq 1991 Book Review
| | | | |
| --- | --- | --- | --- |
| Date of Review | February 2017 | Title | F-15C Eagle vs MiG-23/25: Iraq 1991 |
| Author | Douglas C. Dildy, Tom Cooper | Publisher | Osprey Publishing |
| Published | 2016 | ISBN | 9781472812704 |
| Format | 80 pages, softbound | MSRP (USD) | $20.00 |
Review
Douglas C. Dildy and Tom Cooper competently chronicle the clash of Operation Desert Storm jets in F-15C Eagle vs MiG-23/25 – number 72 in Osprey's "Duel" series.
Subtitled "Iraq 1991", coverage follows the publisher's familiar format.
Contents commence with brief introductory notes recapping American and Soviet air combat tactics since World War II. A 30-year chronology charting the evolution of both nations' fighters then follows.
This seamlessly segues to "design and development" and "technical specifications" sections on the MiG-23, MiG-25 and F-15. Where with the Soviets be without American intake configurations?
Equipment assets addressed, Dildy and Cooper subsequently survey the "strategic" setting and "combatants". Human factors proved critical in the coming conflict. And authors especially spotlight training and tactics as key considerations.
Osprey's effort hits apex with multiple "combat" accounts – beginning with the solitary Iraqi MiG-25 victory, and coursing through several F-15C kills over Iraqi MiG-25s and MiG-23s.
Sidebars augment the account. Photos visually flavor text. Color 3-views, cockpit layouts, formation schematics and action illustrations further spice the study. And an "aftermath", selected bibliography and index conclude contents.
In the end, USAF Eagles scored, as the book's "analysis" reveals, an "unprecedented" 15-to-0 kill ratio over enemy MiGs. Authors attribute the "overwhelming success" to the "well-trained and aggressive" American fighter pilots.
Find out how. Get this terrific little tome.
Recommended!
My sincere thanks to Osprey Publishing for this review sample!