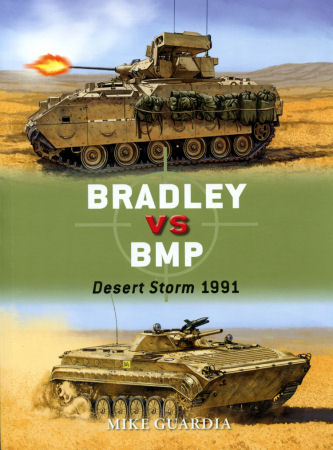 Bradley vs BMP: Desert Storm 1991 Book Review
| | | | |
| --- | --- | --- | --- |
| Date of Review | July 2016 | Title | Bradley vs BMP: Desert Storm 1991 |
| Author | Mike Guardia | Publisher | Osprey Publishing |
| Published | 2016 | ISBN | 9781472815200 |
| Format | 80 pages, softbound | MSRP (USD) | $20.00 |
Review
Introduction of the BMP-1 -€" the world's first true Infantry Fighting Vehicle (IFV) -€" confirmed that Soviet Union had, in author Mike Guardia's words, 'jumped a generation ahead of their western counterparts'.
Until, that is, the M2/M3 Bradley appeared.
Now the two vehicles clash in Bradley vs BMP: Desert Storm 1991 -€" 75th installment in Osprey Publishing's informative and entertaining 'Duel' series.
Contents follow Osprey's proven prescription. After a brief introduction and chronology, text details both vehicles' design, development and technical specifications. Operational remarks follow. Here, Guardia recaps the first Gulf War's 'Strategic Situation' and 'Combatants'.
Contents hit crescendo with 'Combat' coverage of the battle of 73 Easting during Operation Desert Storm. Focusing on 2d ACR Ghost and Eagle troops, Guardia peppers his fast-paced account with absorbing, action-packed anecdotes.
In 'just 80 hours of periodic contact', Bradleys battled Iraqi Republican Guard BMP-1s -€" and T-72s. The 2d ACR sliced through 200 km of Southern Iraq, destroying ''more than 55 tanks and 45 other armored vehicles'' -€" and helping cement the Coalition's decisive 1991 victory.
Osprey's succinct study concludes with instructive analyses, 'aftermath' notes and bibliographic comments. Alan Gilliland's and Johnny Shumate's terrific illustrations -€" as well as photos, extended captions, sidebars and maps -€" tincture text.
And it's annotated!
Osprey's 'Duel' titles deftly distill larger historical lessons through a hic stans prism of two participating technologies. Admirably indexed, this admirable effort deserves inclusion in armor enthusiasts' libraries.
Roundly recommended!
My sincere thanks to Osprey Publishing for this review sample!