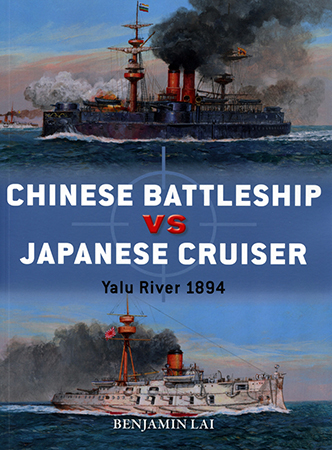 Chinese Battleship vs Japanese Cruiser: Yalu River 1894 Book Review
| | | | |
| --- | --- | --- | --- |
| Date of Review | May 2019 | Title | Chinese Battleship vs Japanese Cruiser: Yalu River 1894 |
| Author | Benjamin Lai | Publisher | Osprey Publishing |
| Published | 2019 | ISBN | 9781472828408 |
| Format | 80 pages, softbound | MSRP (USD) | $22.00 |
Review
Japan's victory in the First Sino-Japanese War augured its emergence as a world naval power.
Now Benjamin Lai distills the 1894-95 naval conflict through the prism of participating warships in Chinese Battleship vs Japanese Cruiser: Yalu River 1894 – 92nd in Osprey's steadily expanding "Duel" range.
Fan of "Duel" titles? Lai's lavishly illustrated, admirably annotated account follows Osprey's familiar format.
After a brief background with chronology, contents commence with remarks on warship "design & development" and the overall "strategic situation".
Coverage particularly pinpoints late 19th-century progress in gunnery and explosives, self-propelled torpedoes, and quick-firing weapons. Technical breakthroughs spawned new tactics. And for China and Japan, combat results proved the arbiter of all.
National commitment proved pivotal, too. "In the early 1890s," Lai reports, "the Chinese Navy was twice the size of the IJN [Imperial Japanese Navy] and organized into four fleets". By September 1894, however, the IJN boasted 63 vessels totaling 94,700 tons. China's principal Beiyang (Northern) Fleet, by contrast, mustered just 17 ships of 35,500 total tons.
Japan strategically sought freedom "from Chinese dominance in East Asia". And converting Korea into a vassal state appeared "the best way to do this".
A discussion of "technical specifications" – firepower, ammunition, protection, and more – follows. And setting the stage for face-off between China's Dingyuan and Japan's Matsushima, coverage hits crescendo with successive sections on "combatants" and "combat".
Japan favored attack – an "aggressive, 'expeditionary' frame of mind", Lai says. China, on the other hand, historically preferred defense – and caution. Battle performance, equipment management, national cohesion, and more reflected those realities.
But despite the perseverance and heroism of Chinese sailors, IJN crews, with superior tactics and weapons, exhibited greater professionalism and gunnery discipline – decisively defeating China's Beiyang Fleet in September 1894.
Battle maps and diagrams chart the action. Photos, color plates, action illustrations, and drawings also augment the account.
Extended captions, sidebars, abbreviations list, and tables further supplement the study. And a selected bibliography and index complete contents.
Building Bronco Models' beautiful 1:350 Imperial Chinese warships? How about S-model's 1:700 Beiyang Fleet kits? Seek project background here.
Recommended!
My sincere thanks to Osprey Publishing for this review sample!