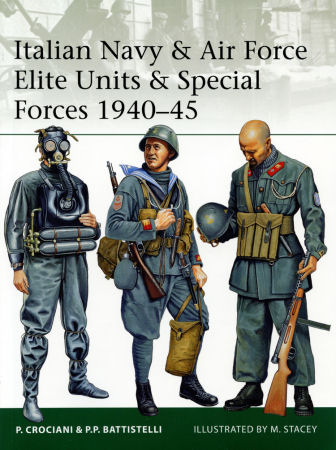 Italian Navy & Air Force Elite Units & Special Forces 1940–45 Book Review
| | | | |
| --- | --- | --- | --- |
| Date of Review | February 2013 | Title | Italian Navy & Air Force Elite Units & Special Forces 1940–45 |
| Author | Piero Crociani, Pier Paolo Battistelli | Publisher | Osprey Publishing |
| Published | 2013 | ISBN | 9781849088572 |
| Format | 64 pages, softbound | MSRP (USD) | $18.95 |
Review
Fans of special operations and irregular warfare will love this one.
Italian Navy & Air Force Elite Units & Special Forces 1940–45 summarizes these select Fascist formations in 64 pithy pages.
After an illuminating introduction, contents explore the 10th MAS Flotilla and "San Marco" Regiment – cover names for Italian Naval special forces command.  Notes on unit and equipment development follow.
Text then turns to wartime operations, June 1940 to September 1943.  That's when a handful of Italian seamen and special assault craft sank three warships and nine cargo vessels totaling over 60,000 tons – fully 12% of the Italian navy's total Mediterranean sinkings.
Coverage of midget submarines and Black Sea actions against Soviet forces ensues.  Therein, Crociani and Battistelli reveal absorbing, aborted schemes for Italian harbor attacks against New York and Freetown in West Africa.  Fascinating!
That leads to an extended interlude on "San Marco" Naval infantry formations.  Of particular interest are so-called "NP" battalions created for special duties – including sabotage missions and guerrilla warfare behind Allied lines.
Exploits of Air Force special forces follow.  And contents conclude with RSI Xa MAS units 1943-1945 – which, surprisingly, reached division-sized strength – and the Folgore parachute regiment.
On balance, authors conclude, Italian naval and air force elites enjoyed mixed success.  Never large enough to affect WWII's strategic direction, they bravely endured poor leadership and faulty deployment decisions.
Mark Stacey's outstanding, informative illustrations superbly season sections.  Photos, extended captions and bibliography further flavor this admirably indexed effort.  And Italians Crociani and Battistelli write wonderfully – better, in fact, than many Osprey authors whose first language is English!
I loved this terrific little tome.  Italian Navy & Air Force Elite Units & Special Forces 1940–45 superbly summarizes a spellbinding subject.  Add it to your library.
Robustly recommended.
My sincere thanks to Osprey Publishing for this review sample!