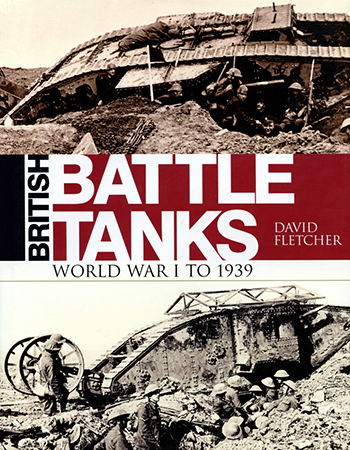 British Battle Tanks: World War I to 1939 Book Review
| | | | |
| --- | --- | --- | --- |
| Date of Review | February 2017 | Title | British Battle Tanks: World War I to 1939 |
| Author | David Fletcher | Publisher | Osprey Publishing |
| Published | 2016 | ISBN | 9781472817556 |
| Format | 236 pages, hardbound | MSRP (USD) | $30.00 |
Review
From Little Willie through Whippet to WWII's Western Desert.
Suitably subtitled "World War I to 1939", British Battle Tanks recounts the formative phase in the development of British armored fighting vehicles.
Part of Osprey's "General Military" range, author David Fletcher's handy hardback supplements sections from several previous "New Vanguard" titles with new material.
His chronologically arranged contents span 236 pages and ten informative chapters:
In The Beginning
Mark IV Tank
Mark V Tank
Medium Mark A Whippet
Wartime Prototypes
The End Of The War And New Beginnings
Vickers Mediums
1930s Tank Developments
Light Tanks 1927-45
Coverage of individual vehicles includes design, development and – where applicable – deployment details. Photos, action paintings and color profiles illustrate the effort. And extended captions further augment the account.
It's also full of fascinating factoids.
Did you know that on the Vickers-Armstrongs 6-Ton Tank (Mark E), the "driveshaft, passing through the tank from back to front, is said to be one reason why a twin-turreted layout was chosen"? And did you know that at least two Medium Mk IIAs surprisingly survived to serve in North Africa during WWII?
Particularly interesting was the A1T1 Independent T1020 – a formidable-looking, five-turret failure. Ditto for Vickers-Armstrongs light-tank designs of the 1930s – especially the intriguing T-15 for Belgium, amphibious vehicles and so-called "Command Tank" with 40mm gun.
Gripes? When will Osprey dedicate a substantial study to Vickers' influential Six Ton family? And when will Osprey offer, in author David Fletcher's words, that "fair-sized book on the Light Tanks alone"?
Soon, I hope!
Roundly recommended!
My sincere thanks to Osprey Publishing for this review sample!