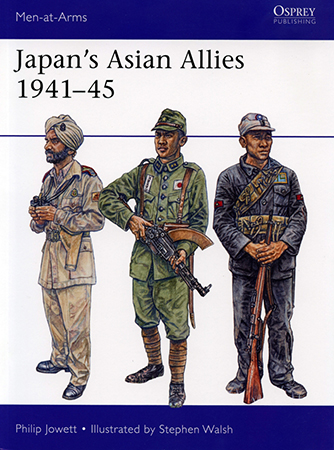 Japan's Asian Allies 1941–45 Book Review
| | | | |
| --- | --- | --- | --- |
| Date of Review | March 2022 | Title | Japan's Asian Allies 1941–45 |
| Author | Philip Jowett | Publisher | Osprey Publishing |
| Published | 2020 | ISBN | 9781472836960 |
| Format | 48 pages, softbound | MSRP (USD) | $19.00 |
Review
Philip Jowett surveys Imperial Japan's WWII "puppet" partners in Japan's Asian Allies 1941–45 – number 532 in Osprey Publishing's huge "Men-at-Arms" range.
After introductory notes, contents span just 48 pages across eleven informative chapters:
Manchukuo, 1933-45
"Nanking China," 1940-45
Inner Mongolia, 1937-1945
Thailand, 1941-45
Indian National Army, 1942-45
Burma, 1941-45
Indonesia, 1942-45
Malaya, 1942-45
The Philippines, 1942-45
Empire Of Vietnam, 1945
Other Pro-Japanese Forces
Sections recap organization, weaponry, personalities, and – where appropriate – air and naval assets.
Coverage also includes paramilitary, constabulary, and insurgent formations. And text notes the rare artillery, armor, and vehicle support some puppet groups received.
Period photos illustrate all. Eight pages of color plates survey the colorful swath of collaborationist forces' uniforms. And endnote commentary handily details all artwork.
Every page brings revelations. And Jowett cites a source or two within text.
But the lack of a selected bibliography – critical to farther reader research and enrichment – proved deeply disappointing.
Still, Osprey's compact compendium offers resourceful readers the necessary leads to unearth sources on the web.
Note, too, that "Hezbollah" [sic: HizbAllah] more accurately translates as "party of God". And the Philippines achieved independence from the USA in 1946.
An index neatly wraps things up.
Recommended!
My sincere thanks to Osprey Publishing for this review sample!