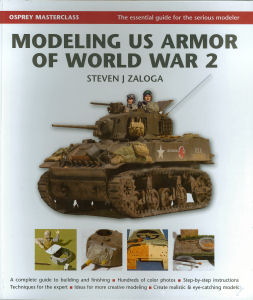 Modeling US Armor of World War 2 Book Review
| | | | |
| --- | --- | --- | --- |
| Date of Review | October 2009 | Title | Modeling US Armor of World War 2 |
| Author | Steven J Zaloga | Publisher | Osprey Publishing |
| Published | 2009 | ISBN | 978-1-84603-398-8 |
| Format | 192 pages, hardcover, spiralbound | MSRP (USD) | $39.95 |
Review
Osprey publishes a wide range of historical and modeling monographs that provide great information at reasonable prices. One of the more interesting series is the Osprey Masterclass. We looked at our first Masterclass title last year with Brett Green's great tutorial on how to paint and finish models to achieve contest-winning results. I can think of a few other publications that have turned out similar quality material for the modeler, but at much higher prices.
This title is part of Osprey's Masterclass series and is not designed to be a shelf reference. While the cover is hard, the pages are spiral bound so that the book will sit flat on your workbench on any page, allowing you to follow along with the material presented. This is a great touch as you won't have to hold the book open with one hand while modeling with the other.
This title is a welcome break from the variety of titles covering World War 2 German armor. The author is none other than armor expert, author, and modeler Steven Zaloga. He brings his extensive knowledge of the subject to the discussion to help us understand many of the detail subtleties that the average armor modeler might overlook. The table of contents explains the path taken by the author to help you become a better modeler:
Construction tips and tricks
Painting techniques
Battle bits: stowage and tools
The human factor
Setting the scene
Photography
Further reading
As you page through this title, you won't find the same old tutorials that have been presented in numerous how-to modeling books in the past. This well-illustrated title walks you through different aspects of detailing that will jump start your next project. For example, the author not only shows you the welded-on casting numbers that appear on various components of the hull and turret, he also shows you how to replicate these in scale. Another good example is weld marks and how to replicate these in your model.
How about weathering? Most how-to titles walk you through the types and application of weathering products, and while the author also covers these essentials, he takes the discussion several steps further and shows you real-world photos of weathered armor, how they accumulate dirt and dust, and then how to replicate this look.
This is one title you must get for your workbench. Until you get the knack of certain techniques, you can always have the author's help within arm's reach and help you through any challenges or apprehensions you might face in the final stages of your project.
My sincere thanks to Osprey Publishing for this review sample!