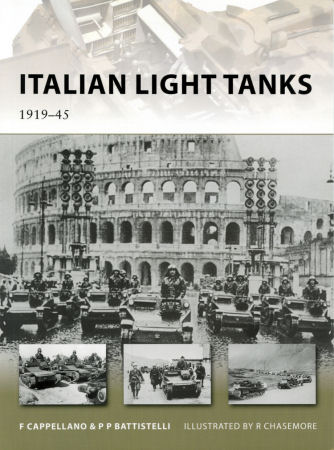 Italian Light Tanks: 1919–45 Book Review
| | | | |
| --- | --- | --- | --- |
| Date of Review | August 2012 | Title | Italian Light Tanks: 1919–45 |
| Author | Pier Paolo Battistelli, Filippo Cappellano | Publisher | Osprey Publishing |
| Published | 2012 | ISBN | 9781849087773 |
| Format | 48 pages, softbound | MSRP (USD) | $17.95 |
Review
When Fascist Italy entered World War II in June 1940, tiny, 3-ton L 3 (CV 33) tankettes overwhelmingly dominated its armored force.
Pier Paolo Battistelli and Filippo Cappellano tell the tale of these and other diminutive deathtraps in Osprey's fascinating Italian Light Tanks: 1919–45.
And what an absorbing account it is.  After useful background notes on Italy's scant experience with armor in World War I, authors recap the country's first production tank – the Fiat 3000, a 1921 development of France's legendary FT 17.
Scarce funding and infrastructure concerns prompted planners to procure 25 minuscule Carden-Loyd Mk VI tankettes in 1929.  Ansaldo quickly redesigned the vehicle as the CV 33 a few years later.  And derivatives assumed the dubious role of "Main Battle Tank" in Ethiopia, Spain and early World War II.  Some even served in Russia and, postwar, with Italian police.
These and later turreted L 6/40 tanks rule this tidy tome.  With commendable detail, coverage courses through design, development and deployment of both vehicle families.  How wide were track links?  How many appear on each vehicle?  And what of armament arrangements?  It's there.  And more.
Prose, however, proves occasionally awkward.  Height "not superior to" should mean "not exceeding".  That "propeller shaft" likely indicates "drive shaft".  That's "idler wheel" – not "idle wheel".  And, by the way, "2,000 meters" isn't "1,243 miles": 2,000 kilometers is.
Nitpicks notwithstanding, I immensely enjoyed this convenient compendium.  Photos, extended captions, color plates and informative illustrations season Osprey's savory study.  Bibliography and index complete contents.  Grab this entertaining little book.
Highly recommended.
My sincere thanks to Osprey Publishing for this review sample!