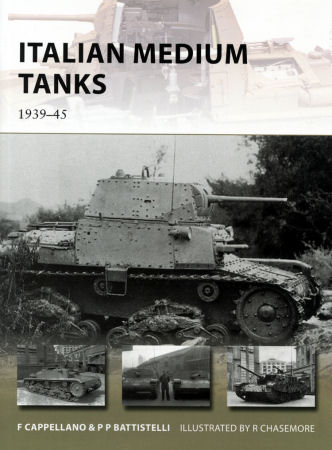 Italian Medium Tanks 1939–45 Book Review
| | | | |
| --- | --- | --- | --- |
| Date of Review | January 2013 | Title | Italian Medium Tanks 1939–45 |
| Author | Pier Paolo Battistelli, Filippo Cappellano | Publisher | Osprey Publishing |
| Published | 2013 | ISBN | 9781849087759 |
| Format | 48 pages, softbound | MSRP (USD) | $17.95 |
Review
This cool, compact compendium capably continues where the authors' fascinating Italian Light Tanks: 1919–45 ended.
Osprey's Italian Medium Tanks 1939–45 recaps, type-by-type, larger Fascist armor of World War II – conventional "M" designs, Semovente self-propelled guns and P40 "heavy" tanks.
Italy's armored forces endured endemic doctrinal and technical deficiencies – including poor propulsion, faulty armor, and questionable quality.  But leveraging the best of their inadequate mounts, Italian crews proved credible combatants against lighter British Cruiser and US Stuart designs.  Allied Technology, however, triumphed over tactics.  And the battlefield dominance of heavier British and American designs eventually rendered Italian medium tanks virtually useless.
Coverage commendably courses through design, development and deployment of all vehicle families.  Contents helpful describe the organization and – after Fascist defeats in North Africa – reorganization of key Italian armored units.  And notes on German use of Italian medium tanks, "camouflage & markings" and surviving vehicles augment the account.
Rivet-counters!  As with their previous book, authors Pier Paolo Battistelli and Filippo Cappellano muster mountainous measures of minutiae – especially suspension and armament details.  Even the Carro M Celere Sahariano, "carbon copy of a British A15 Crusader II" seized in North Africa, takes a bow – unfortunately without illustration!
Photos, extended captions, color plates and informative illustrations flavor this entertaining effort.  Specification charts, bibliography of secondary sources and index complete contents.  Make this handy handbook – and Italian Light Tanks: 1919–45 (New Vanguard 191) – your preface to further study of Fascist armor.
Highly recommended.
My sincere thanks to Osprey Publishing for this review sample!