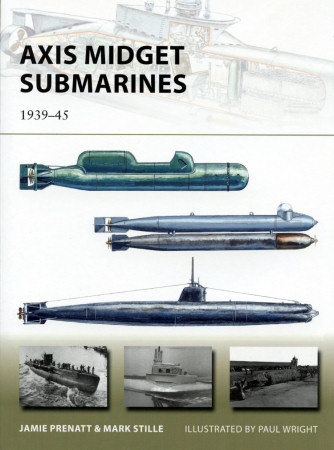 Axis Midget Submarines 1939–45 Book Review
| | | | |
| --- | --- | --- | --- |
| Date of Review | September 2014 | Title | Axis Midget Submarines 1939–45 |
| Author | Mark Stille, Jamie Prenatt | Publisher | Osprey Publishing |
| Published | 2014 | ISBN | 9781472801227 |
| Format | 48 pages, softbound | MSRP (USD) | $17.95 |
Review
"Destination Tokyo".  "Das Boot".  "Run Silent, Run Deep".
In popular culture and history, submariners and undersea warfare have long enjoyed ample allure.
Now some specific submersibles enjoy impressive illumination in Axis Midget Submarines 1939-45 – number 212 in Osprey's extensive "New Vanguard" series.
Smaller undersea vessels, authors Mark Stille and Jamie Prenatt observe, "could be produced quickly, cheaply, and in secret".  Those advantages especially appealed to Italy.  And after instructive historical notes, that's where this interesting effort begins.
Against numerically superior British and French adversaries in the Mediterranean, Italy developed midget submarines to redress its "inferior naval position in capital ships".  And during WWII, Regia Marina manned torpedoes and midget subs actually achieved notable success – including two British battleships sunk in shallow waters at Alexandria, Egypt.  Even bolder, more aggressive operations against New York; Freetown, Sierra Leone; and Cape Town, South Africa, however, failed to see fruition.
Despite a preference for large, ocean-going boats, Nazi Germany also developed and produced several types of manned torpedoes and midget subs, totaling hundreds of vessels.  Of these, only the Seehund class achieved success, sinking 120,000 tons of Allied shipping and eventually entering postwar French service.  Fascinating German concepts including the stillborn Manta – a high-speed submersible catamaran hydrofoil!
The Pearl Harbor attack arguably remains Japan's most famous midget-submarine operation.  But as the authors note, the Imperial Japanese Navy actually intended these high-speed vessels for their "decisive naval battle" strategy – not for harbor attack.  After mixed-result actions against the Aleutians, Australia and Madagascar, most IJN midgets served in local-defense roles.
Gripes?  Some.
Launched in 1911, the Austro-Hungarian battleship SMS Viribus Unitis was commissioned in 1912.  So when sunk by Italian submariners in Pola harbor in November 1918, it – then rechristened Jugoslavija – was hardly "recently constructed".
Also, where exactly is "occupied Spain"?  Do the authors really mean "neutral Spain"?  That's not a "4in shell still discernible", but the effects of said "4in shell".  And I would have liked even a guess at total Japanese Type A/B/C midget-submarine production.
Gripes aside, I really enjoyed this little book.  Photos, extended captions, color plates, tables, selected and index augment the experience.
Axis powers constructed roughly 2,000 small submersibles.  Make Osprey's convenient compendium your entrée to this fascinating topic.
Recommended!
My sincere thanks to Osprey Publishing for this review sample!