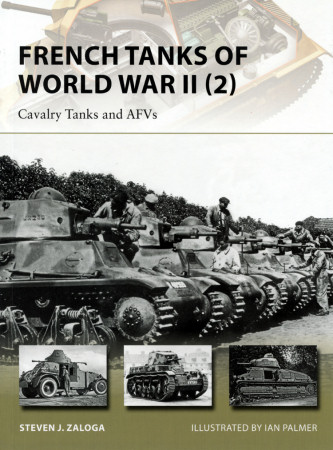 French Tanks of World War II (2) Book Review
| | | | |
| --- | --- | --- | --- |
| Date of Review | September 2014 | Title | French Tanks of World War II (2) |
| Author | Steven J. Zaloga | Publisher | Osprey Publishing |
| Published | 2014 | ISBN | 9781782003922 |
| Format | 48 pages, softbound | MSRP (USD) | $17.95 |
Review
Steven J. Zaloga continues his informative account of World War II French tanks with a study of Calvary and AFV designs.
Osprey's sequel – 213th in its popular "New Vanguard" series – recaps the development and deployment of seven vehicles:
Renault AMR 33
Renault AMR 35
Calvary Tank: Renault AMC
Calvary Tank: Somua S35
Hotchkiss H35
Hotchkiss H39
Panhard AMD 35
Introductory notes recap early efforts at cavalry mechanization, doctrinal evolution and operational reforms.  Coverage continues with a summary of French armor performance during the Battle of France.  And contents conclude with a section on French tanks after the 1940 armistice.
Zaloga adroitly assesses French deficiencies in turret design, battlefield communications, training and unit numbers.  He destroys some myths – like the numerical superiority of French tanks during the 1940 conflict, and the commonality of turrets between the Char B1 bis and Somua S35.  And he springs some surprises.
Did you know, for instance, that the Somua S40 – an improved S35 derivative with three-man FCM turret – nearly entered production for the Imperial Japanese Army in 1942?
Photos, extended captions, tables, glossary, bibliographic notes and index support text.  And Ian Palmer's informative illustrations provide plenty of modeling inspiration.  Unfortunately, profile reproduction is distinctly dark, obscuring details.
More, please.  Let's hope Zaloga continues his intriguing study with a third installment on the Free French tank force.
Roundly recommended!
My sincere thanks to Osprey Publishing for this review sample!