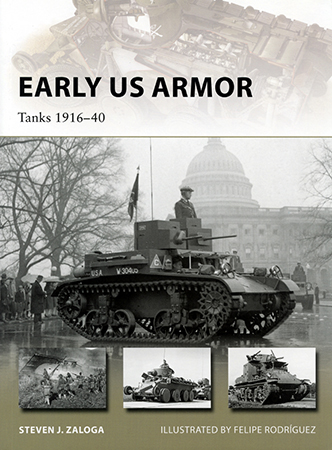 Early US Armor: Tanks 1916-40 Book Review
| | | | |
| --- | --- | --- | --- |
| Date of Review | April 2017 | Title | Early US Armor: Tanks 1916-40 |
| Author | Steven J. Zaloga | Publisher | Osprey Publishing |
| Published | 2017 | ISBN | 9781472818072 |
| Format | 48 pages, softbound | MSRP (USD) | $18.00 |
Review
America's mighty armored forces of World War II owed victory to technology, equipment and doctrine forged over the previous quarter century.
That premise helps fuel Steven J Zaloga's superb little Early US Armor – number 245 in Osprey Publishing's popular "New Vanguard" range.
Subtitled "Tanks 1916-40", coverage chronologically charts the total tale in just 48 densely detailed pages. Contents include:
American Tank Origins
The Tank Corps
Tank Corps Disbanded
Early Christie Tanks
Rock Island Arsenal Tanks
The Christie Distraction
Knox's Light Tanks
Combat Cars and Infantry Tanks
Calvary Combat Cars
Infantry Light Tanks
Increasing Armor and Firepower
The M2 Medium Tank
Marine Corps Tanks
Export Tanks
In Retrospect
Zaloga adeptly addresses the era's political, military and economic forces. And personalities play major roles.
Like Harry A Knox, who designed the iconic vertical volute suspension and rubber block track. And the idiosyncratic J Walter Christie.
Sections on Christie proved, I thought, the book's most provocative parts. But Christie, Zaloga notes, "did not have the perseverance or patience to convert an intriguing design into a functional and reliable machine".
Failures in US Army service, Christie convertible designs nevertheless spawned Britain's Cruiser tanks and Soviet Russia's legendary T-34. So who knows? Had J Walter Christie displayed greater business, engineering and, yes, social acumen, America might have produced a T-34 analog.
Extended captions and informative tables support the study. B&W photos and a solitary contemporary color shot also augment the account. And notes on USMC and export armor further spice the saga.
Felipe Rodríguez's action artwork is excellent. His splendid cut-away aptly illumines Christie's convertible concept. And his ten superb profiles sample the swath of US between-wars camouflage schemes. More from Mr Rodríguez, please.
An index and selected bibliography conclude contents.
Grab this terrific little tome. Then – please – lobby Osprey and Steven J. Zaloga for a sequel on J Walter Christi's innovative armor designs.
Rabidly recommended!
My sincere thanks to Osprey Publishing for this review sample!