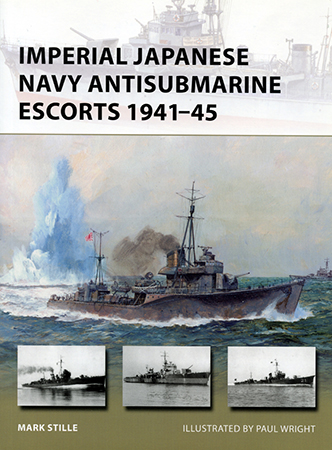 Imperial Japanese Navy Antisubmarine Escorts 1941-45 Book Review
| | | | |
| --- | --- | --- | --- |
| Date of Review | November 2017 | Title | Imperial Japanese Navy Antisubmarine Escorts 1941-45 |
| Author | Mark Stille | Publisher | Osprey Publishing |
| Published | 2017 | ISBN | 9781472818164 |
| Format | 48 pages, softbound | MSRP (USD) | $18.00 |
Review
In nearly four years of fierce fighting, US Navy submarines succeeded in strangling Japanese maritime commerce during WWII.
"Incomprehensibly for nation dependent on seaborne trade," author Mark Stille writes, "Japan gave a little thought how it might defend its sea lines of communications during wartime."
Now he distills a key cause of that failure in Imperial Japanese Navy Antisubmarine Escorts 1941-45 – title 248 in Osprey's extensive "New Vanguard" range.
After Pearl Harbor, the IJN attempted to rectify its paucity of purpose-built ASW escorts with new, mass-produced vessels. But when these arrived in 1944, Imperial Japan "could not stop the massacre of Japanese shipping by increasingly bold and effective United States Navy (USN) submarines."
Osprey's slim, 48-page survey begins with introductory notes on Japanese ASW tactics, escort design principles, weapons, and sensors. Contents then segue to classes of IJN wartime ASW escorts:
Momi
Wakatake
Tomozuru
Otori
Shimushu
Etorofu
Mikura
Ukuru
Number 1 Escort Class (Type C)
Number 2 Escort Class (Type D)
These comprised second-class destroyers, torpedo boats, and mass-produced kaibokan ("coastal defense") escorts. Stille calls the last, "short, slow, and ugly".
Coverage of classes includes notes on design, construction, armament, modifications, wartime service, and specifications. A table listing individual ships, builders, launch and commission dates, and fates accompanies each section.
Quite a few of the vessels survived the war. Several even served into the 1960s. And at least one was finally stricken from communist Chinese service in 1982!
Most importantly, the "lack of an effective kaibokan design," Stille concludes, "became a prime factor in losing the war for the IJN."
Color profile and plan views, B&W photos, an explanatory center spread, and two action paintings illustrate the account. And extended captions, selected bibliography, and index complete contents.
Recommended!
My sincere thanks to Osprey Publishing for this review sample!